Section 179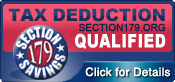 RDO Works to supply customers the equipment they need to receive the tax breaks they've earned.
The "Protecting Americans from Tax Hikes Act of 2015" (PATH Act) was passed by both the House and Senate and signed into law on 12/18/2015. This bill expanded the Section 179 deduction limit, which is good on new and used equipment, as well as off-the-shelf software.
2016 Deduction Limit = $500,000
Limit is good only for 2016
Purchased or financed equipment must be put into service by 12/31/2016
2016 Spending Cap = $2,000,000
Good on new and used business equipment
Deduction begins to be reduced on a dollar for dollar basis for purchases over $2,000,000
This spending cap makes Section 179 a true "small business tax incentive".
Bonus Depreciation: 50% for 2016
Bonus Depreciation is generally taken after the Section 179 Spending Cap is reached
Bonus Depreciation is available for new equipment only
Buy before December 31, 2016 to take full advantage of these tax incentives!

Ready to take advantate of Section 179 incentives?
Make sure it aligns with your strategic year-end plans by reviewing these 5 key areas.
*RDO Equipment Co. does not provide tax, accounting or legal advice. The calculation example presents a potential tax scenario based on typical assumptions that may not apply to your business. Always check with your accountant or tax attorney to verify your eligibility for any tax deductions.