John Deere TC125 Turf Collection System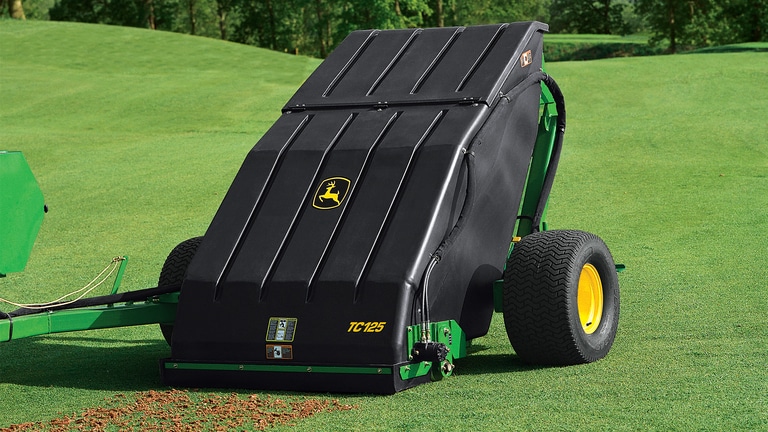 Ideal for collecting cores, leaves, clippings, thatch & other types of debris
Cleans average green in 15 minutes
Hydraulically driven brush system
Machine
Vehicle requirements
Powered by either a compact utility tractor or HDUV with a Selective Control Valve (SCV). Hydraulic requirements: 23 L/min
6 gpm
Minimum continuous: 13.8 MPa
2,000 psi
Gathering width
121.9 cm
48 in.
Hopper capacity
0.71 m3
25 cu ft
Hitch
Attaches with standard hitch pin: 19 mm
0.75 in.
Offset towing feature
Allows the unit to be towed directly behind or offset to the left side of the vehicle. Easily performed while operator remains seated.
Hydraulic collection
3 quick-disconnect couplers (2 rotary brush, 1 lift cylinder)
Lift
Hydraulic powered lift cylinder for dumping
Pick-Up system
Hydraulic powered rotary brush
Brush speed
Direct drive hydraulic motor: 500-600 rpm
Rollers
Brush aggressiveness and flotation is controlled by a 6-in (15.24 cm) diameter full width roller directly behind the rotary brush. The roller height can be adjusted to accommodate the turf conditions and degree of brush wear.
Productivity
Clears an average green in 15 minutes
Tires
26.5x14-12
Dimensions
Height
Lowered: 162.5 cm
64 in.
raised: 368 cm
145 in.Length
350.5 cm
138 in.Width
238.7 cm
94 in.Weight
578 kg
1250 lb
Dump height clearance
120 cm
49 in.