In July, Jacob Maurer presented at the InfoAg Conference in St. Louis on the topic of data inoperability, with a focus on adapting to the realities of today's digital agriculture. Through sharing his own story and a few doses of humor, Jacob showed the audience that, just like the "devil's weed," Palmer amaranth, challenges in agriculture today are dynamic, and require a combination of practice, humility, and rapport to overcome them.

Below is a portion of Jacob's own story and what he discussed at the presentation.

Early Learnings
My first job out of college was field sales agronomist for a cooperative in Kansas. I'm sure many can relate to this – I had ZERO formal training in agronomy, and to boot, I did not grow up on a farm. My shiny new degree was in Agribusiness, not Agronomy, and my electives were spent on feed science and a collection of missed opportunities from an engineering degree I attempted to pursue.

Much of my first months on the job were spent learning core fundamentals which were probably assumed I would have had in the first place. A nickname of "Alfalfa" was quickly earned, not because of awesome hair or ability to manage a stand, but because I mistakenly identified it as a weed which was overtaking a field.

In my defense, the grower had taken the field out of alfalfa to grow soybeans for a couple of years so technically it was a "weed" of sorts.

This seemingly never-ending list of items I was unprepared for led to incredible frustrations early on in my career. The motto of "you don't know what you don't know" became my crutch as well as my ideal. The very first field I ever "scouted" was a soybean field which had become overrun by a combination of grasses and broadleaf species. I remember full-well taking a picture of it because:

1. I couldn't believe I was actually at the right field (it was the first time I had ever used a plat book…if you had to Google what a plat book was, consider yourself lucky)
2. I felt like I was going to need a before and after picture for proof on the pending claim I could already see coming in the very near future.

Two weeks later, by golly, 24 ounces of glyphosate got it all cleaned up.

The next year, marestail emerged as enemy number one, and agronomy retailers and custom applicators within my trade territory were judged by customers based upon their abilities to control it.

I became obsessed with marestail. After throwing half-rates all over the place to keep my tank mix cocktails on the cheap, a number of weed species had developed an incredible tolerance – and in some cases, flat-out resistance – to many modes of action I would need in the future.



Then came a new weed issue that had been there all along, but no one respected as a real threat. For years, we called them all "pigweeds," and anything sprayed seemed to control them well enough. But now the lack of knowledge and experience from my past caught up to me and presented a whole new challenge. Its name was Palmer amaranth.

The Devil's Weed
Palmer amaranth is a very dynamic weed. It adapts to its conditions, it takes many forms, it grows faster than anything out in the field, and it is resistant to virtually everything.

By 2015, advisors and growers were going to every length imaginable trying to correct the oversight of Palmer amaranth, and everyone quickly realized how many technologies had been burned through in attempt to control past weed species.

Early in the spring of 2019, K-State confirmed Palmer amaranth had developed resistance to 2,4-D and dicamba (group 4), in addition to the laundry list of group 2, 5, 9, and 27 herbicides.

For those of us who come from areas where this weed has overtaken cropping systems, we can find empathy within each other. We also have much that can be shared with industry colleagues who have yet to experience this "devil's weed."

Cultivating Connection
Digital agriculture has a lot to learn from those in the crop protection space. I believe the biggest lesson which can be learned is that we, both digital agriculturalists and growers, must recognize that the first solution will not always be the "ultimate" solution.

Even though we as an industry continue to build our "network" through social and digital media, the core fundamentals of communication seem to become unnecessary when our screens are always prepared to tell us the answer.

Edward O. Wilson said it best: "We are drowning in information, while starving for wisdom. The world henceforth will be run by synthesizers, people able to put together the right information at the right time, think critically about it, and make important choices wisely."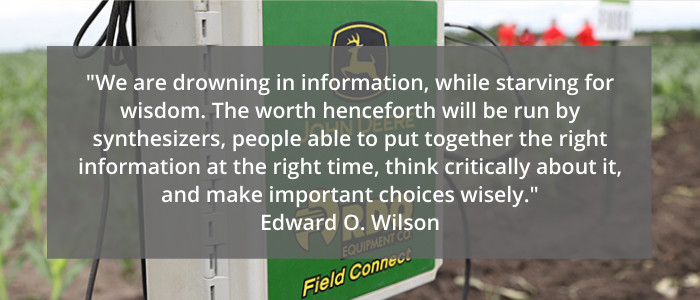 There is still a lot to be said about building a strong track record of positive outcomes and rapport with grower customers, those relationships are everything to us at RDO Equipment Co. It takes our team of advisors being honest with ourselves and realizing that we cannot possibly have all the answers.

With the dynamic challenges faced in agriculture today, we all must develop the experience and empathy needed to overcome them. Along with a continued focus on strong personal relationships with grower customers, we'll have best opportunities to deliver actual solutions for growers.
---------

About the Author
Jacob Maurer has been working as an agronomist for 10 years. At RDO Equipment Co., he works with team members and growers in the Midwest region, focused on education in areas including data management and precision spraying. He's a frequent speaker at universities and industry events, and a regular contributor to PrecisionAg.com. Connect with him on Twitter @RDOJacobM.

Learn more about precision agriculture offerings from RDO Equipment Co. Browse listings of available used agriculture equipment for sale or find options by visiting your local RDO Equipment Co. store.