Down the street from his grandparent's home in the tiny town of Big Cabin, Oklahoma, Brett Waterman can still see it: the bright white two-story home with green shutters nestled within the vast silo-scattered plains punctuated by barns straight out of an old oil painting.
It was a large dairy farm; it caught his eye the first time he saw it and it continued to fascinate him throughout his childhood, no matter how many times he passed by.
"It was an architectural jewel that captured my imagination," Brett recalls. "I can still vividly see it."
Today, that dairy farm would be at least 100 years old. Unfortunately, it is no longer there. Just as Brett fondly remembers passing by the farm and seeing it in the distance as he spent summers with his grandparents, he sadly recalls witnessing the slow deterioration of the property year after year. The condition of the once-majestic farm worsened. The farmhouse became weathered and dilapidated. The barns began to sag and stare out into the world, wistful for the days when they were strong and proud. One by one, each building was torn down. And then there was nothing left.
That dairy, those buildings, and his feelings watching the decline were the sparks for Brett's initial interest in restoring homes. Always one to tinker and try to fix anything he could get his hands on -- bicycles, cars, furniture -- Brett used that spark of interest to fuel his hands-on passion for homes. He eventually began to focus on one specific area: restoration.
Today, Brett hosts his own television show on that same concept, "Restored" on Discovery+. With every historic home he works on, Brett sets out to do what he always wanted to do, what he wishes he could have done for that dairy farm in Oklahoma: save it.
Brett works with homeowners to recapture their home's architectural details that have been lost over the years, refresh the period pieces to make them pop in a new setting, and restore the home to the way it was meant to be.

Finding a New Tool
When Brett is not restoring homes on his show, he is just like every other do-it-yourselfer, rolling up his sleeves and tackling projects around his home. Like other DIYers, Brett knows the right tools are necessary to get the job done. Recently, he added a new "tool" to his toolbox, "my favorite tool, along with my F250," as he describes it: a John Deere 3025E compact utility tractor from RDO Equipment Co. in Riverside, California.
Always eager to put in the work to get a job done, Brett had been searching for the right tool to take care of a large project on his property in Redlands, California. Situated on five acres, Brett's home is surrounded by groves, formerly home to active citrus trees. The trees stopped producing but Brett saw potential to bring the space back to life. He wanted to remove the dead trees and "restore" the groves, with the goal of planting new avocado trees to supply a local retailer.

He planned to visit the RDO Riverside store like any other customer – in search of the perfect tractor to use for projects around his property, yet unsure of exactly what he needed. In addition to the grove project, Brett had big ambitions to tackle several other tasks around his property and felt he'd need a big tractor to handle the work.
The RDO team was eager to work with Brett. RDO Sales Manager Michael Ligtenberg and Account Manager Holly Swartz met with Brett to learn about his personal property and the projects he wanted to do, as well as how he would use the tractor on the show, too.
"The homes on 'Restored' are typically residential properties so we had to consider workspace and access size," Michael explained. "It wasn't only about a big tractor to do big jobs, it was finding one that could fit into and access small, tight areas, while still doing the work."
That led them down a path to John Deere's 3 Series tractors. The 3025E was the right size for the attachments and capacity Brett needed, while still being easy to transport and compact enough to work in residential yards.
"Right off the bat, Michael and Holly were great," Brett recalls. "I went in thinking I needed a much larger tractor but after talking through all the details and demoing the 3025E, I agreed it was the perfect choice."

Looking for a tractor like Brett's but a bit smaller? Watch this Deere 2038R tractor walkaround:


Full Service and Support
While he initially approached the process with RDO as a typical DIYer, one might wonder if a celebrity like Brett Waterman truly is a "typical" customer.
Like every customer, Brett needed more than just the tractor. He needed more than the right combo of attachments. He needed a partner, one that would be there to help him with everything from switching out the attachments to answering questions to service and troubleshooting. And that is exactly what he got.
Both Michael and Holly gave Brett their cell numbers and told him to call or text anytime. They have taken personal time to show Brett how to use the machine and attachments, and have offered to make the trek to be onsite at a project to assist however needed. While it may sound like the RDO team rolled out the red carpet and give Brett celebrity treatment, that is not the case.
"This is just how we do business," Michael said. "All our customers get a personal level of service and we strive to build relationships with everyone who walks through the door."
Holly agrees and says the relationship goes both ways. She recalls from the time Brett first came to RDO all the way through when he was ready to take his tractor off the lot, he never acted like a celebrity. He approached the team like a typical customer and a gracious one, too.
Related article: Three common compact utility tractor issues and how to troubleshoot

"Brett stops by to see us, he calls us, and he talks to us in a way that's genuine," she said. "It is a business relationship but, like many of our customers, we have also developed a friendship."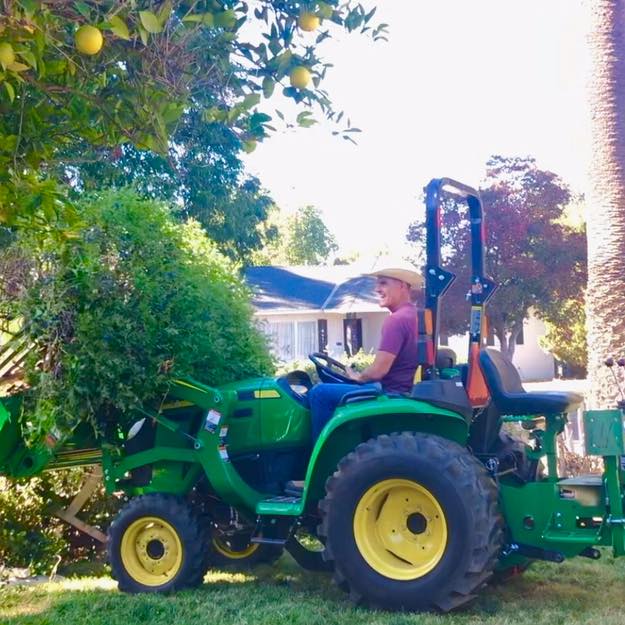 Fan's of Brett's show will see this John Deere unit in action on his show, "Restored" where he restores unique older homes.
Getting the Job Done
Not to forget the tractor itself, Brett is pleased with how it has been working, both at home and on his show. He only recalls a few times where he has had to troubleshoot issues and each time, Michael was able to help Brett solve the problem over the phone.
In addition to being his favorite "tool" around his home, the 3025E came to the rescue on a project he was doing for "Restored," and saved his crew precious time and money.
"We were working on a beautiful 1800s Victorian home," Brett said. "Similar to my property, it had old groves surrounding it with dead trees that needed to be taken out."
It was a big job so Brett planned to work with his usual landscape contractor to complete it. But there was a problem: the contractor was unable to do the job until the next week.
"When we are filming a show, doing these projects, we are on a time crunch," Brett said. He added that there is also a cost – a significant cost – to roll cameras each day so waiting a week to film this portion of the work was not an option.
Initially, he had not thought of bringing his 3025E onsite because it seemed like a project that was too large and would take too long to use a single tractor and loader. But Brett, under pressure to complete the project, called an audible: "I said, let me go get my tractor and backhoe, and we will do it today."
Brett jumped in his truck and was back in 20 minutes with everything he needed to do the job. Not only did the work get done, it got done with cameras rolling, something that would not have happened had they waited a week for the landscape contractor.
"If I did not have the tractor to do that job, that day, we would not have been able to capture that great footage, no question," he said. "It would have been a big miss for the episode."
Brett has plans to use the tractor for a few specific jobs on upcoming episodes of "Restored," and has already used it on a pilot for a potential new show in the works. "Restored" recently moved from DIY Network to Discovery+ and began airing its sixth season.
As for his projects around the home, Brett is looking forward to tackling more work with his Deere 3025E. In addition to his grove project, he has also been using the tractor with a planer attachment to build and grade a new driveway. He is also using the same setup to grade space on the property where he envisions building a barn.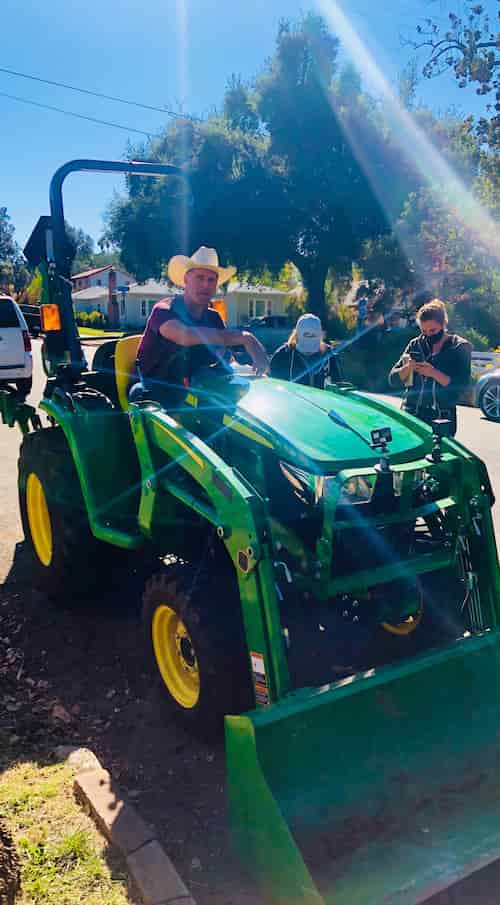 Brett takes a break in the driver's seat while filming his hit show, Restored, on Discovery+.
The Pride of DIY
If you have ever rolled up your sleeves and tackled a DIY project, you know the feeling of pride and accomplishment that comes along with a completed job. Along with his childhood memories and a love of doing the work, Brett uses that same feeling to fuel his projects. And it always helps to have the right tools in his toolbox.

--

Ready to take on projects around your property? Browse John Deere tractor packages to find the tractor and attachments that are right for you. See more options and learn about preventative maintenance, parts, and full service at your local RDO Equipment Co. store.