Three RDO team members are ready to serve their teams and customers in new leadership roles for the 2023 planting season in RDO Equipment Co.'s Midwest Ag region.
Nic Miller, Aron Bellemare and Blake Mathues each stepped into new roles in recent months. Their promotions mark the latest chapters in their respective RDO stories of career growth. From internships and field support roles to experienced store leaders, read on to learn more about the many routes to grow a career at RDO with these three stories.
Nic Miller, Regional General Manager — Ada/Hawley, Minnesota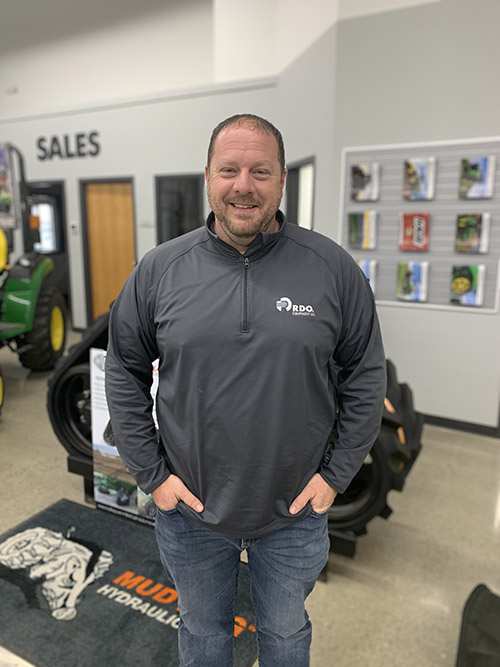 In the fall of 2022, Nic Miller was promoted to Regional General Manager, responsible for the stores in Ada and Hawley. Miller was previously Store Manager in Casselton, North Dakota, a role he held for 10 years. He began with RDO in 2004 as an accountant working out of the Field Support office.
In 2007, Miller moved to the Financial Planning and Analysis team and worked there for five years before switching gears and heading into the field as Casselton's Store Manager.
"It was a big learning curve, for sure," he said of the transition. "I had a good understanding of the business from my finance roles, but you can't truly know how a store and the team operates without spending the time there. Thankfully, I had good mentors, I had the partnership of everyone in Casselton, and I'm proud of the culture and successful team we grew."
Now, as Regional General Manager, he'll expand his focus and use his nearly 20 years of experience to lead the Ada and Hawley teams.
"I'm just excited to be able to keep partnering with the great teams we have all throughout the Midwest Ag region and the growers we serve," he said. "RDO is a place where you are surrounded by the resources to help you grow and people who are all playing to win."
Aron Bellemare, Store Manager — Casselton, North Dakota
Aron Bellemare was promoted to Casselton Store Manager in late December. Bellemare was most recently service manager in Casselton, the same location where he began his RDO career as an Access Your Future (AYF) service intern in 2013. After his internship, Bellemare became a full-time service technician and spent time in the parts department before his most recent position. His path in aftermarket is a foundation on which he will continue to build as store manager.
"Working in parts and service gave me the opportunity to build relationships with customers and team members," Bellemare said. "I learned the processes and daily challenges in those departments, from making time on job codes to looking up parts for customers in a hurry in the middle of the busy season."
Bellemare is grateful for the opportunities he's had along his path. Now, he's most excited to help others seize their own opportunities.
"The support I've had from my colleagues and managers has been second to none. I have always been pushed to grow and have had backup from my teammates any time I've needed it," he said. "Reflecting on how I've grown my career is rewarding, but now it's even more rewarding to be in a position to help others grow within their roles and take their next steps."
Blake Mathues, Store Manager — Hawley, Minnesota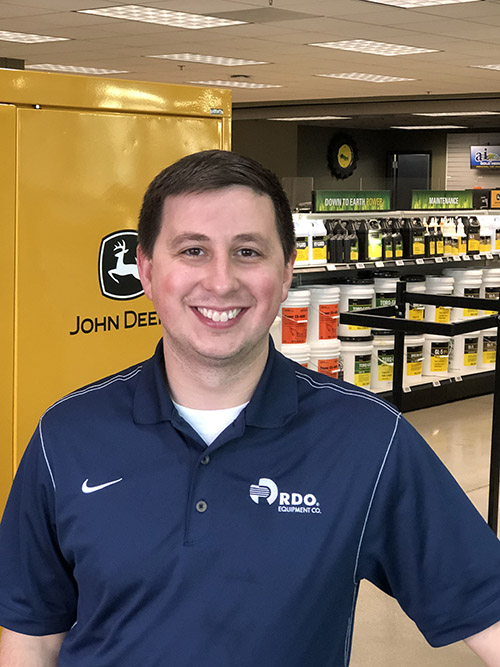 In February, Blake Mathues was named Store Manager in Hawley, Minnesota. Like Bellemare, Mathues got his start at RDO through the AYF program.
"I was picking up parts at the RDO Fergus Falls store for the farm I worked on when the store manager handed me a card with information about the AYF program," Mathues said. "Now, I keep those same cards on my desk now in case anyone might be interested. It opened the door to RDO for me."
Mathues turned a sales internship in Breckenridge, Minnesota, into a full-time field support role as Used Equipment Coordinator in 2015. He later became Used Equipment Manager, and in 2017, took the Lawn & Garden Manager role in Moorhead.
The job made perfect sense for Mathues, who had grown up working at his dad's lawn and landscaping business, which just so happened to run John Deere equipment. He planned to start his own business at one point, but that changed as he saw the opportunities within RDO.
"Now, I think of this as my own little business within the store," he said. "That's really how we're empowered to operate at the store level."
Miller, Bellemare and Mathues each have unique stories showing that no two career paths are the same, no matter what the starting point. With the right resources and opportunities, RDO is a place to grow the career you want.