This year's Desert Coast Growers Invitational golf tournament hosted by RDO Equipment Co. is supporting The Agriculture Leadership Council (TALC) of the Natividad Foundation, a campaign dedicating 100% of its dollars to improve agricultural families' quality of life by providing medical equipment and services during challenging times.
"Agriculture workers in the Coastal and Desert regions need access to the vital resources the Natividad Foundation provides," said RDO Equipment Co. Vice President of Southwest Agriculture Richard Arias. "And RDO team members are fueled by the opportunity to create pathways to Natividad's high-quality care through fundraising."
To date, RDO team members have partnered with John Deere and Global Unmanned Sprayer System (GUSS) to raise more than $100,000. John Deere and GUSS were the title sponsors for this year's event that was held in May.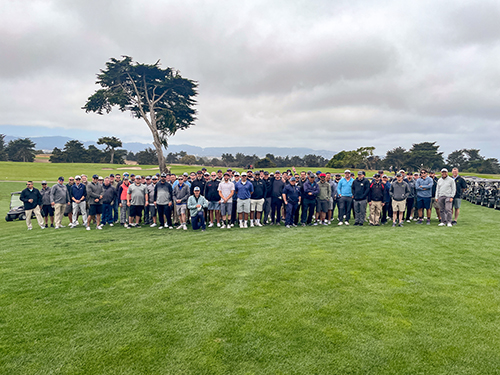 Gold tournament participants included RDO and John Deere team members, growers and other community supporters.
"Inspired by how the 2022 golf tournament made an impact, the John Deere and GUSS team values this as an amazing opportunity to directly support agriculture families who work to feed not only Arizona and California but the entire country," John Deere's Business Division Manager David Gordillo said.
Jennifer Williams-Carpenter, Natividad Foundation's President and CEO states that proceeds from the inaugural Desert Coast Growers Invitational purchased fetal monitors, skull position equipment, 10 "Super Ears" for patients with hearing loss and 12 months of a new hospitality cart for children in the Natividad's Hospital Emergency Department filled with stuffed animals, stickers and coloring books so kids can feel less afraid.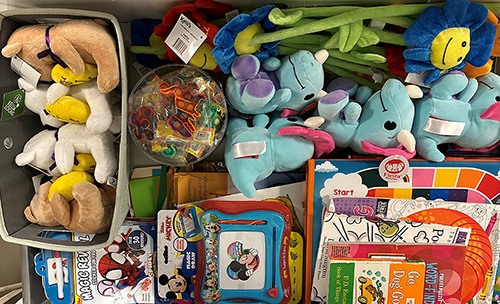 Some the items purchased for Natividad's Emergency Department hospitality cart.
"Funds raised during the 2023 golf tournament will fund 12 more months of special care for kids in Natividad's Emergency Department plus 26 pieces of equipment for patients ranging from newborns through advanced age," Jennifer Williams-Carpenter said. She highlights equipment and services that will be purchased with the proceeds:
Neptunes for surgery to ensure every operating room has one for trauma patients.
Portable Ultrasound Doppler for the new North County outpatient clinic in Prunedale.
A podiatry chair for the Specialty Services clinic.
New, easier-to-clean and disinfect newborns' bassinets for the Mother-Infant Unit.
10 scientific thermometers for patients throughout the hospital.
12 more months of the Hospitality Cart for children in the Emergency Department.
"This year's Desert Coast Growers Invitational felt so centered around generosity that two people spontaneously gave back any prize money they earned through the tournament so more families and children can be helped," Williams-Carpenter said. "I don't see that very often."
Arias says the RDO team plans to host the Desert Coast Growers Invitational again to support agriculture workers, families, and children during spring 2024. He looks forward to growing the event's fundraising efforts to help more nonprofits like Natividad Foundation.