Growers and autonomous equipment experts, including RDO Equipment Co. team members gathered at the Grand Farm in North Dakota to see the latest advancements in autonomous technology demonstrated as well as to discuss logical next steps.
Autonomous Nation, the conference aimed at discussing the future of autonomy in agriculture, featured panelists from diverse backgrounds. Vanessa Kummer, a panelist during the Growers Panel, highlighted the need for affordable and adaptable autonomous technology that can be incrementally added to each farm's unique operation. Ryan Olson, another panelist, and grower echoed this sentiment, and said many growers will need help from dealerships on what technology to onboard first. Olson said most farmers want to onboard automation for mundane tasks and implement connected machines so they can learn from each year's output.
All three of the panelists highlighted how John Deere's "See & Spray™"technology helped to decrease input costs — a crucial factor in choosing equipment during high inflation rates. "See &Spray Select still has that ExactApply nozzle and technology," said RDO Equipment CO. agronomist Erin Hightower on the Agriculture Technology Podcast. "What changed is that there is a camera system now pre-reading as the sprayer is going across the field."
The real-time RGB camera on the sprayer allows more processing power, allowing the sprayer to apply a precise amount of pesticide to protect the crop.
Growers Demo State-of-the-art Equipment
During the afternoon, RDO team members spoke with attendees about the importance of finding technology solutions for their unique operation. Attendees, experts, and growers agree that technology — whether autonomous or not — is needed to ensure we can grow and build the future.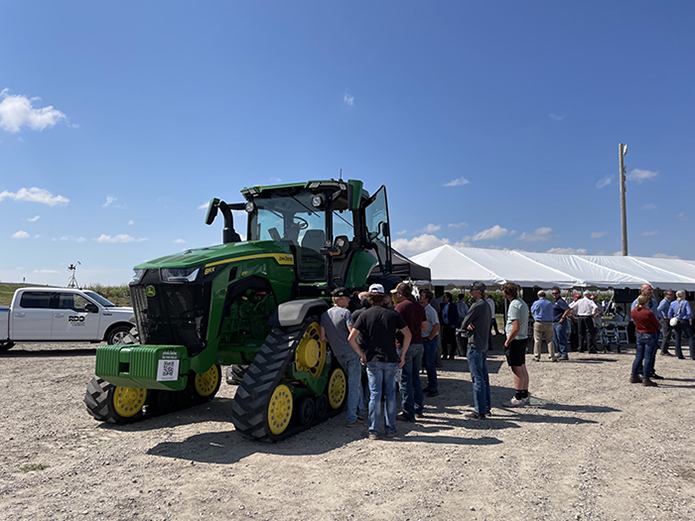 Conference attendees admire John Deere's 8RX Tractor.
---
Watch this video to learn how See & Spray saves money on inputs.
---
Read more about how RDO team members help growers to find Precision Ag Answers.