Story written for Rental and first appeared in July 2021

"An ounce of prevention is worth a pound of cure" so goes the old saying.

Putting in the time to take care of hard-working rental equipment is essential to keeping the fleet ready to rent at all times. Because, without ready, reliable and safe equipment, there simply is no rental business.

A successful preventative maintenance program takes place both pre- and post-rent but a commitment to maintenance runs throughout an organization's entire operation. At RDO Equipment Co., we have made preventative maintenance a priority and help our rental center partners to do the same.

Watch to hear from one independent rental company about its service and support partnership with RDO.


Based on our shared experiences, we developed two 5-step checklists, along with a few process-related best practices to follow when a machine goes out and when it comes back in.

Pre-Rental: When a Machine Goes Out
A simple checklist is a great way to make sure all necessary tasks are completed. The best starting point for all maintenance is a machine's operator's manual, which will have a detailed checklist and specifics to the machine. In general terms, a basic, priming checklist has five steps: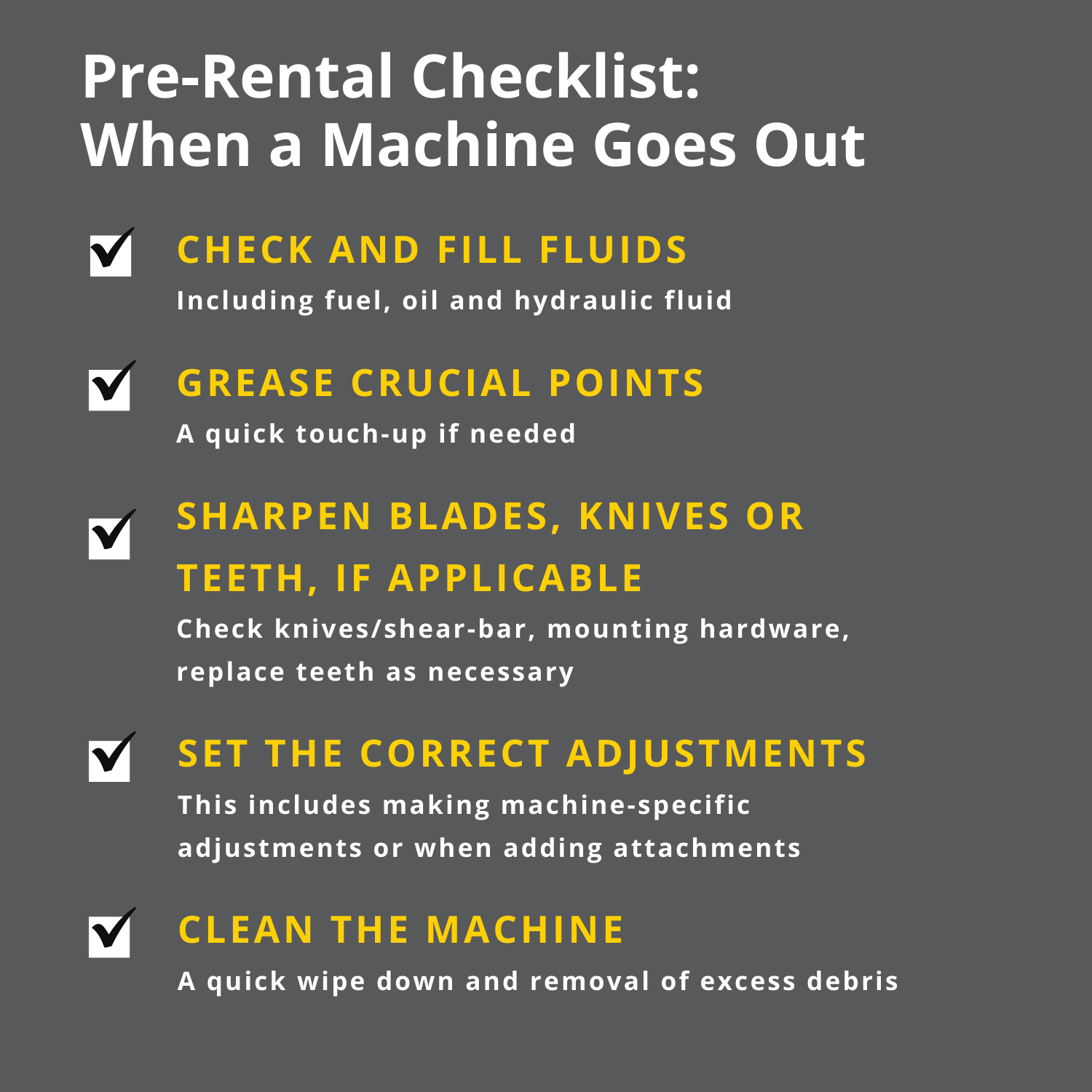 Upon meeting with the customer, whether at the rental yard or delivering the machine to a jobsite, do a machine walkaround and take detailed photos of its condition. These pre-rental photos can come in handy down the road when the customer returns the machine.

Post-Rental: When a Machine Comes In
Whether a machine was rented for a few hours or a few weeks, all equipment should go through a standard return process, first to assess its condition and second to give it much-needed TLC.

When a machine comes in, a good practice is to repeat the machine walkaround process that was conducted with the customer prior to the rental. This is a prime time to inspect the machine's condition and assess any damage or issues, and where those pre-rental photos can be crucial. If there is damage that a renter disputes was there prior to him or her using the machine, photos can show who is liable for repair costs.

Moving into the actual maintenance portion of the return process, it is again a good idea to consult the machine's operator's manual. It will have suggestions specific to each machine but here is a general maintenance checklist with five basic steps: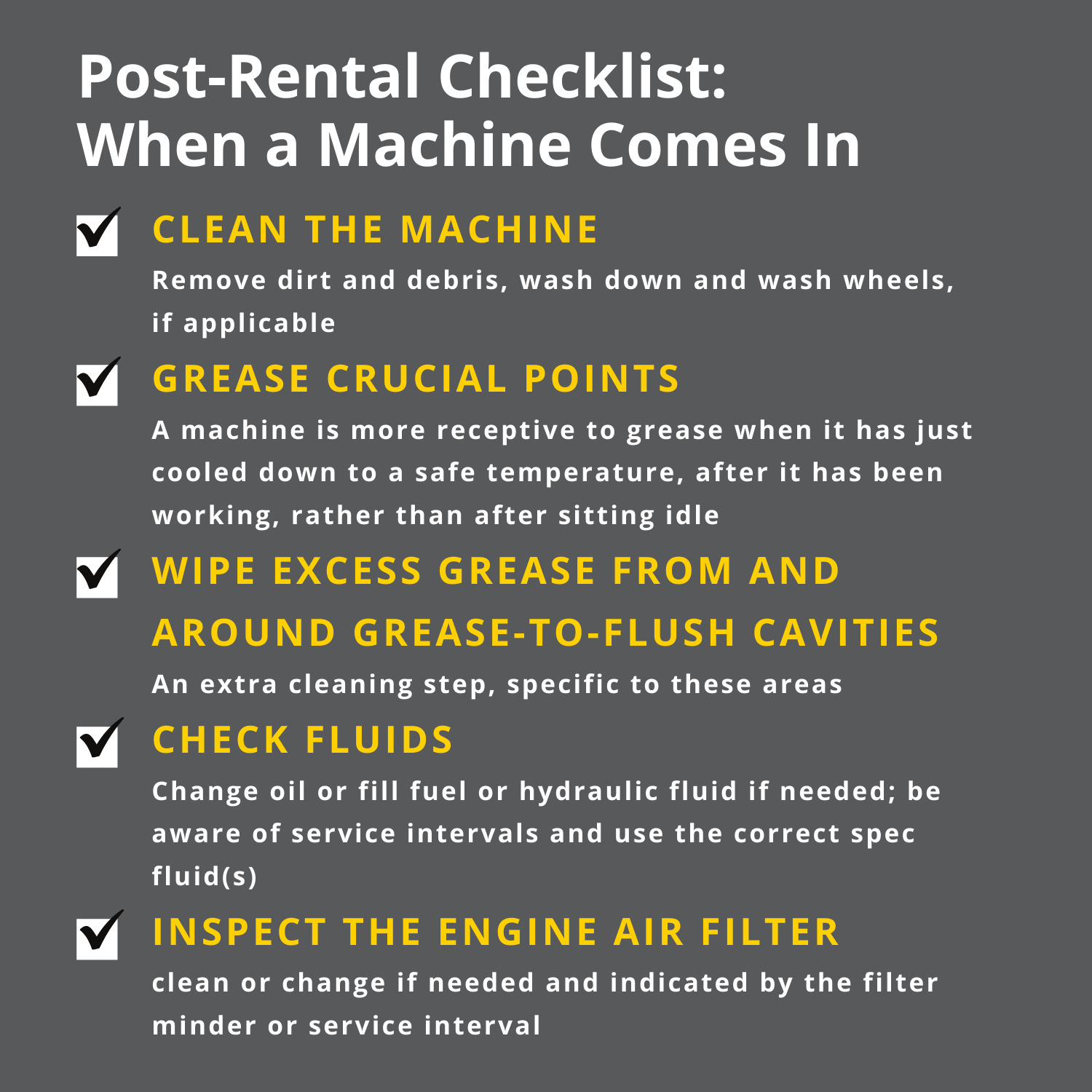 It is tempting to put away the machine as-is and hold off on these maintenance steps. After all, the machine needs to go through the pre-rental checklist then anyway so why double up the effort? By taking care of maintenance now, the machine can get back out on rent – and bringing in revenue – quickly when the demand arises.

Note the similarities with the pre-rental checklist, such as points 2 and 4. If these are addressed upon return, those two steps can be quickly checked off the list when it is time for the machine to go back out on rent.

An oil change is dependent on the machine hours and usage, while an air filter change may be needed as a direct result of the renter's application and environment, particularly a dry or dusty jobsite. Fuel can typically be topped off now; in the case of a gas-powered machine that may sit idle for awhile, consider using a fuel stabilizer to ensure the fuel does not get stale.

Another good reason to take care of maintenance immediately upon return is it offers another opportunity to closely inspect the machine for any damage incurred by the renter. When going through basic maintenance and checks, note any issues that were missed during the return walkaround. In the event something shows up, reach out to the customer ASAP to discuss the problem and next steps. If an issue is noticed a week or two later, there's little chance to hold the renter accountable.

Additional Best Practices
1. Regularly consult the operator's manual.
As noted earlier, every machine includes an operator's manual. These guides are focused on the make and model of every machine and get very specific on everything from basic daily upkeep and longer hourly maintenance intervals, to best practices for safe operation and care.

2. Provide operational and safety training for every renter.
Operating the machine correctly and safely tends to lead to fewer maintenance needs and repair issues. Even those renters who have experience operating a machine should receive at least an overview of safety and best practices.

As an equipment dealership that also rents machines, RDO shares this outlook. The team offers free lifetime training to rental centers to ensure the staff knows proper and safe operation practices on equipment, which can then be passed onto the renter. Likewise, the RDO team trains rental staff on basic preventative maintenance.

Related article: FAQs for rental centers looking to grow a rental equipment fleet

3. Keep the relationship with the dealership strong.
A rental center's relationship with their equipment dealership is one that deserves the same time and attention as the machines themselves. A good partner understands that the machine is a reflection on their business as much as the rental outlets and will work hard to ensure their team is invested and doing their part to provide the equipment and after-sale support needed.


Regular care and preventative maintenance of machines may sound like a heavy lift but doing it right will keep the equipment – and the business – running smoothly.
---
Browse used equipment for sale and find the next quality pre-owned machine for your rental fleet. See more options and all available equipment at your local RDO Equipment Co. store.