As the equipment world becomes more globally connected, there's growing need for equipment companies to support buyers looking to find, buy, and ship equipment internationally.

The process of buying – and selling – equipment across the globe is a complex one. Equipment companies that understand the process and do it well have been involved for years and, most importantly, have learned how to make the process smooth for customers. As a longtime global equipment partner with partnerships in several countries, RDO Equipment Co., gets several questions from international companies about how to find, buy, and get the agriculture and construction equipment they need.

If you're looking to find quality pre-owned machines and securely ship equipment for global use, here are five of the most frequently asked questions about the international equipment process – and the answers you need to buy with confidence.

FAQ #1: How do I find quality used equipment?
Good, reputable equipment begins with a good, reputable equipment seller. Between auctions, private sellers, and equipment dealers, there are a lot of choices – so how can global equipment buyers find a trustworthy source to get high-quality equipment?

Consider looking for a long-term partner, like an equipment dealership, versus a one-off seller. A good dealer partner will adhere to a customer's budget, not try to sell the most expensive machine.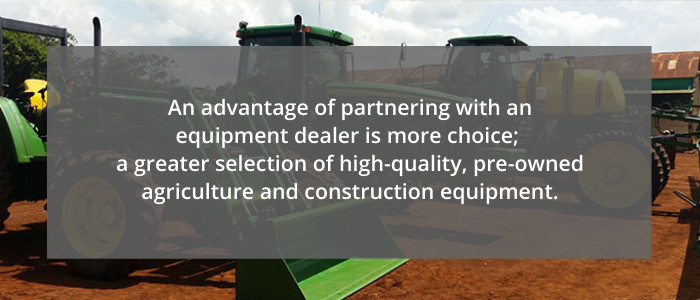 Additionally, a reputable dealership will help make the buying process easier, starting with a good website where customers can browse up-to-date, detailed equipment listings. A dealer will also be able to provide photos, video walkarounds, even a detailed history of the machine's service records.

It all adds up to no surprises so customers can buy with confidence – the machine you agree to buy is the machine you get.

FAQ #2: Can I still buy quality Tier 2 and Tier 3 machines?
Because some countries can't support newer Tier 4 equipment, buyers in those areas are more limited to the equipment they can choose, with pre-owned Tier 2 and Tier 3 machines the only options.

When researching and browsing around, look for a seller that offers a large inventory of equipment, where there's a greater chance of finding high-quality Tier 2 and Tier 3 machines.

Additionally, look into the seller's inspection and reconditioning process. Especially for international buyers, reliable, field-ready equipment is so important. A seller that puts in the time to inspect and recondition pre-owned equipment is more likely to provide a machine that's dependable and ready to go to work, even machines that are older with higher hours.

FAQ #3: Can international companies still get equipment parts and service support?
An equipment purchase can't end with the machine itself. Reliable parts and service support is a must. But many global customers wonder, can they get that support when they're thousands of miles, even an ocean away, from the seller?

This again is where an equipment dealership provides an advantage, as they have strong partnerships with manufacturers to get and stock crucial parts. Look for one with a large parts inventory, the knowledge to help find the right parts, and the ability get them shipped out quickly.

Technology and service-related support are also important to equipment reliability and uptime. Look for a seller that provides this additional level of support via email and phone.

FAQ #4: Do different countries have different rules to export and import equipment?
Many countries have very strict import regulations, some more than others, but one factor seems to be consistent across most – they're getting stricter, especially in areas like cleanliness of equipment coming into the country. For example, in some countries, machines cannot have even a spec of dirt on them; if they do, they'll be rejected and shipped back at the buyer's expense.

When looking to buy, find out the seller's knowledge level with exporting equipment and especially what they know about different policies for different countries. The same machine can't be shipped to Australia the same way it would be shipped to South Africa and expect the same outcome. It's crucial the seller is aware of guidelines and can adhere to them so equipment shipping time isn't delayed – or worse, the machine gets sent back.

FAQ #5: What do I need to know about the complete international equipment shipping process?
The logistics of exporting equipment is perhaps the most complex piece of the overall puzzle. This again is why it's so important to work with a reputable company with export experience and a team that knows how to make this process smooth.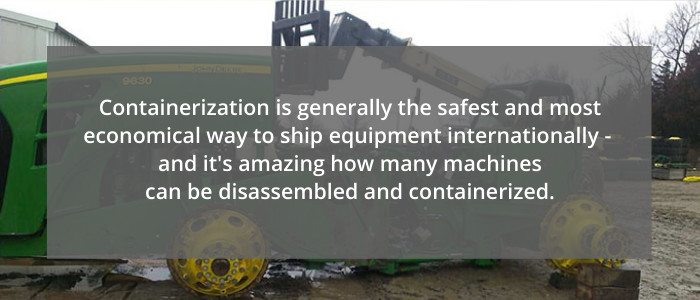 When it comes to overseas shipping, the two most common choices are roll-on/roll-off or containerization. Roll-on/roll-off is where the machine is trucked or shipped fully assembled and arrives as-is. Containerization is the process of disassembling a machine, putting it in a shipping container, then it's reassembled upon arrival.

Containerization is generally a safer, less expensive option and it's amazing how many kinds of equipment can be containerized – even the largest agriculture and construction equipment like combines and dozers. It may sound intimidating to reassemble a machine, which is why RDO, for example, provides photos and detailed instructions to help.

The other logistical concerns are having proper documentation and insurance, tracking shipments, and clearing customs. Additionally, some countries require the submission of a CoC, Certificate of Conformity, to ensure equipment has been inspected and is in good condition to ship.

The responsibility of these steps in the process should be spelled out with correct Incoterms, which are the world's essential terms of trade for the sale of goods. Incoterms were updated in 2020 so be sure the seller is up to date on them.

Working with an experienced, trustworthy company, buyers can rest assured the entire shipping process will be handled, worry-free.

Find, Buy, and Ship Equipment Internationally
Buying pre-owned equipment requires an extra level of research and time investment compared to buying new equipment. The process becomes a bit more complex when it comes to buying and shipping internationally; for global companies, this adds another layer of responsibility to find the right seller, not just the right machine. These frequently asked questions about buying and shipping equipment internationally will help provide a good foundation for finding both.

--


Learn more about pre-owned agriculture and construction equipment for global use or for used equipment buyers in the U.S., find your local RDO Equipment Co. store.