Spark plug and filter changes. Cleanings and sharpenings. Fresh oil and fuel. Simple or complex, routine maintenance tasks add up over time, not to mention the space, parts, and tools required to execute a comprehensive maintenance program. Even those who choose to have equipment service at the local dealership may struggle to find the time and energy to haul it in, then pick it up in a timely manner.

But every equipment owner knows that routine maintenance is one of the best investment that can be made in machines. So what's the solution?

Enter Mobile Maintenance, a special program from RDO Equipment Co. that brings the entire process to customers. Whether it's in the driveway or the field, Mobile Maintenance comes to you and your equipment, and takes care of the entire process.

Why choose Mobile Maintenance from a reputable partner like RDO? These 9 benefits of choosing Mobile Maintenance prove how maintaining lawn and garden and other compact equipment can be easy and hassle-free.


1. 24 Hours Isn't Enough
Work. Parenting. Cleaning. Errands. There are only 24 hours in a day, yet seemingly unlimited tasks to do around the house. Taking advantage of Mobile Maintenance means maintaining equipment is one less thing to worry about.

In addition to taking care of all maintenance tasks, the service comes to you, when and where it's convenient. The only task on the list? Schedule the service.

2. Delegate to Experts
Most people know how to operate equipment, yet the skills and knowledge it takes to properly and confidently maintain machines typically aren't as easy to master. For those who aren't mechanically-inclined or comfortable handling maintenance, it's an easy and worthwhile task to delegate to professionals.

All RDO service technicians are certified and focused on certain types of equipment. In the case of Mobile Maintenance, the technicians are specialists in lawn and garden equipment so maintenance is always in the hands of trusted experts.

3. On Your Property, On Your Schedule
Okay, so maybe you've accepted you're not comfortable maintaining your mower or compact tractor. Why not just bring it into the dealership to handle? That's certainly a smart option. Yet even when scheduling service at a local dealership, it takes time and proper transport to bring in the machine and pick it up.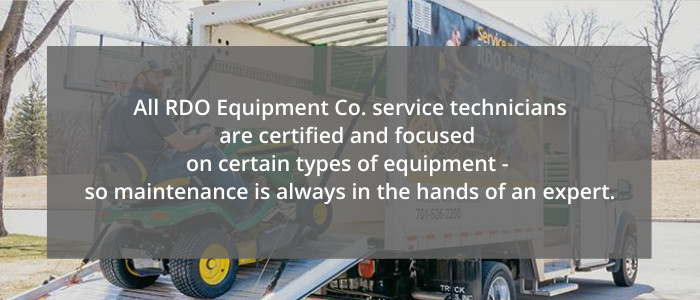 Mobile Maintenance still happens on a schedule, however, it doesn't take time out of the day. The truck and technician show up, then go to work – no interruptions to your day.

4. Detailed Record-Keeping
In addition to the work itself, one of the most valuable pieces of a maintenance program is the service history on the machine. When it comes to resale value, proving what was done and when can be the difference between a quick sale and the best dollar – or a machine that's tough to move for top dollar.

While it's possible to keep a good maintenance log when doing repairs at home, service records from reputable dealerships are guaranteed organized and accurate. Yet another time-saving advantage of Mobile Maintenance.

5. Get the Full Treatment
Even for those who have the best of intentions to maintain equipment on schedule, sometimes life gets in the way. An oil change might be missed. There just may not be enough time to sharpen the blades. Even a simple post-mowing cleaning and wipe down is easy to neglect here and there.

With mobile maintenance, equipment gets the full treatment, every time. That means every fluid, every spark plug, every task on the maintenance checklist is looked at and addressed.

Watch how one RDO customer saves time and invests in his equipment with Mobile Maintenance.

6. Extended Life
When maintenance intervals are skipped, the machine suffers. Eventually, too many missed oil changes, dirty air filters, or dull blades can add up to premature wear and shortened life of a machine.

Good preventative maintenance is among the best ways to extend the life of equipment, period. When it's done thoroughly, properly, and on time, you can expect the best value from machines.

7. Uptime Guaranteed
It's a perfect day, the weather is ideal, and there's enough time in the day to mow the lawn. You go to start the machine and…it doesn't start. The day's plans are now focused on troubleshooting the mower vs. taking care of the lawn.

Equipment isn't valuable if it's not ready to go when you are. With Mobile Maintenance, not only will machines be reliable and ready to work, there's peace of mind knowing they'll run at peak performance.

8. No Mess
Between filters and fluids, wrenches and shop rags, a good maintenance plan can take up a lot of space. Not only that, cleaning, changing oil, and general equipment TCL can create a mess.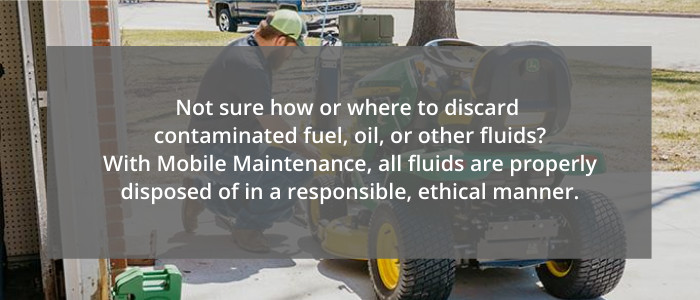 With Mobile Maintenance, everything needed to maintain equipment comes – and leaves – in RDO's Mobile Maintenance trucks. This saves precious garage space and leaves behind no mess in the driveway.

9. Proper, Safe Fluid Handling
What's the best way to store oil? If a mower's fuel is contaminated, how and where should it be disposed? These are questions that no longer need to be answered.

Expert Mobile Maintenance professionals ensure all fluids are properly stored, then disposed of in a responsible, ethical manner.

There's no question about it – equipment maintenance is a must, a non-negotiable part of ownership. Working with RDO and Mobile Maintenance makes the process easy and hassle-free, while resulting in reliable equipment that'll always be ready to go when you are.

---
About the Author
Darius Schneibel is Regional Service Operations Manager with RDO Equipment Co. in Moorhead, MN.
Learn about Mobile Maintenance for lawn and garden equipment or find out more details at your local RDO Equipment Co. store.