Tyler Bereman, a professional motocross freestyle rider and a seasoned competitor, set a goal to break records at this year's Moto X QuarterPipe High Air event at X Games California.
"The QuarterPipe high air competition in X Games is very nerve-racking one to watch, let alone compete in," Bereman said. "The goal is to jump as high as you can off an 18-foot metal ramp at an angle of 85 degrees and land on a 25-foot-tall dirt landing at a 65-degree angle."
Bereman's goal was to reach 50 feet above the ramp edge. He'd need the perfect space and setting to practice to do that, which meant moving some serious earth.
Bereman is no stranger to the track-building process. He crafted his quarter pipe in 2018 and documented other track builds in his Red Bull Imagination web series. He found a partner in John Deere on these builds, who provided the earth-moving equipment to turn his vision into reality.
Now, with eyes set on a world record, Bereman and his team sought John Deere equipment to enhance his personal quarter pipe on a ranch in El Cajon, California — a practice space to jump higher and, most importantly, land safer.
"John Deere has been a key player in making my Red Bull Imagination event come to life," Berman said. "The equipment has been amazing and the perfect tools for the job. With the past relationship built from that, it only seemed right to get back on those same tools for this next task."
Bereman and his team connected with Darrin Vaca, a rental sales professional at RDO Equipment Co. in Lakeside. He ensured the group acquired the construction equipment needed: a 245 excavator, 550 dozer and a skid steer. Vaca even went the extra mile, tapping his network outside RDO to secure a water truck, water trailer, and telehandler for the project.
As Vaca learned more about the sport and the sheer speed and momentum required to achieve Bereman's goal, he also recognized how the quarter pipe's most minor details were crucial for safety.
The teeth of a standard excavator bucket would leave grooves and rough edges on the quarter pipe's surface, which needed to be smooth and precise. Vaca asked his Lakeside teammates to weld a custom-fit flat plate to the bucket teeth, giving Bereman the clean cutting edge he needed.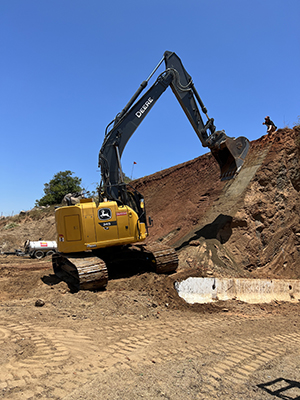 Bereman directs operator of 245 excavator.
Vaca worked closely with Bereman, visiting the ranch several times to keep track of the project's progress. The best part? The result of Bereman's hard work.
At X Games California 2023 in July, Bereman achieved what he set out to do. He launched just over 52 feet into the air during the high-air event, earning a bronze medal and pushing the higher standard for himself and his fellow competitors. As if that weren't enough, Bereman took home gold in Moto X best whip, another high-flying event.