When a North Dakota-based heavy, highway, and municipal construction company accepted a high-profile job to build a multiple-mile-long stretch of Interstate 29 during the Midwest's short construction season, they knew updating their equipment would be vital to the project's success.
Northern Improvement completes many projects like this one, but they quickly identified that their smaller concrete placer machine wouldn't meet this project's needs," said Eric Sahr, RDO Equipment Co. WIRTGEN Product Manager.
Sahr points out that Northern Improvement has built roads since 1935, and after meeting with team members, he recognized the construction company's urgent need to source an ultramodern concrete placer and spreader to improve their roadbuilding's productivity.
"The window to pave new roads is dependent on the weather," Sahr said. "Jobs like these are dictated by temperatures and the concrete mix."
Consistently the temperature needs to be above 45 degrees Fahrenheit to build smooth and solid roads, Sahr explained, and this year the North Dakota Department of Transportation kicked off its construction season officially on May 27.
"This is a high production job, and we only have a finite number of days to pave," Sahr said. "So, finding a machine that would be a consistent and fast paver was vital to ensure the road's entire four and half mile stretch could be built in a timely manner."
High-production Project Equals a 'Series' 1 Solution
Because approximately 21,000 feet of I-29's southbound lanes needed to be reconstructed, Northern Improvement's team required a high-production slipform paver. According to the American Pavement Concrete Association, slipform pavers are selected for large jobs because they have low-slump Portland Cement Concrete (PCC), so the concrete will hold its shape once it's placed along with high production rates, around 230 feet an hour.
To build these large, well-travelled highway lanes, dowel baskets and tie bar basket needed to be pre-placed approximately 3 feet apart, so Northern Improvement's team needed to be able to supply concrete to the placer and spreader from what would be the highway's west shoulder.
During World of Concrete in March, the WIRTGERN GROUP unveiled their complete concrete paving train, including the latest addition to its range of two-track placer/spreaders, the WPS 102i Placer/Spreader. A leading machine in a paving train, the WPS 102i travels over the pre-placed steel rebar tracks ahead of the slipform paver and the texture curing machine. 
Having previously used WIRTGEN equipment, Northern Improvement was drawn to the WPS 102i. To ensure it was a fit, the Northern Improvement team asked if the RDO service team could extend the placer to 30 feet instead of their existing placer/spreader's 24 feet.
"The WPS 102i can be programmed to place and spread 12 to 40 feet concrete roads and up to 20 inches of thickness," Sahr said.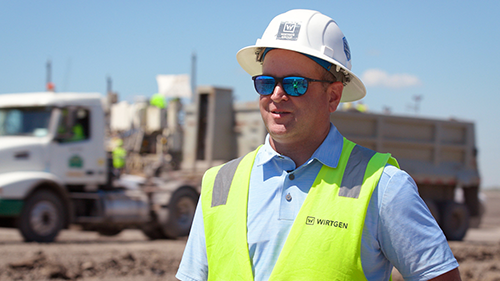 Eric Sahr, RDO Equipment Co. WIRTGEN Product Manager explains how he worked with the WIRTGEN GROUP to deliver the first – and largest – concrete placer and spreader in North America.
Sahr says the WIRTGEN GROUP engineers were brought in to ask the right questions to figure out the proper delivery timeline and aftercare service needs to match the project's requirements.
Sahr explains when road surfaces need pre-placed reinforcements, concrete can often only be supplied to the machine from the side. The placer/spreader travels in front of the slipform paver over the reinforcement, while a truck mixer feeds the belt conveyor with concrete from the side. This concrete is poured evenly over the tracks, in front of the slipform paver, and distributed across the road's predetermined width. Once the concrete supply truck is empty, the conveyor belt can be folded away in a very short time to clear the path for the next truck.
"This piece of equipment is truly adaptable to numerous roadbuilding projects' needs," Sahr said.
Ultimately, Sahr said the Northern Improvement team felt comfortable with buying the concrete placer and spreader because it would significantly add to their productivity.
During early July, RDO team members and WIRTGEN GROUP engineers spent three days preparing the machine for work, leading up to a test run – one which left the Northern Improvement team impressed and confident they had made the right decision.
Watch the Series 1 WIRTGEN Concrete Placer and Spreader in action.
"We were able to partner with WIRTGEN GROUP and update the concrete placer and spreader to their 30-feet requirement before delivering Northern Improvement's pavement start day," Sahr said.
Jill Berger, a foreman who's worked with Northern Improvement for more than 20 years, was struck by the equipment's power and speed.
"The power is amazing. It can move mud and it is super quiet," she said. "During our test run, we were able to place about six tracks in 6.5 minutes, which is pretty amazing."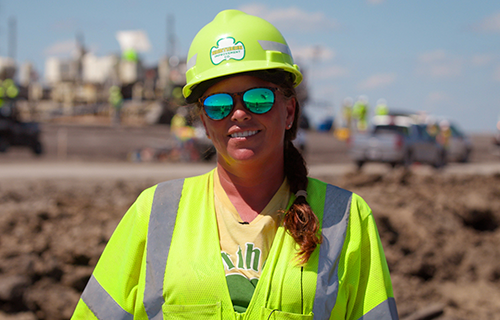 Jill Berger, Northern Improvement Foreman, explains how she's impressed by the machine's efficiency.
During the first few days of paving, WIRTGEN GROUP product specialists and engineers from Germany, along with RDO team members were on the jobsite to defend against any downtime and troubleshoot any issues.
Technology Safeguards Workers' Productivity
Both Sahr and Berger underlined this and future projects' need to use technology to improve productivity and safety, benefits offered by the WPS 102i.
In addition to automated safety features designed to shut the machine down to safeguard workers, machine monitoring and GPS empowers Northern Improvement to learn from each job, and help their team members grow in skill and confidence.
Machine monitoring also helps prevent downtime, more important than ever because of labor shortages and inflation.
"These days we don't have a quote or a conversation with a customer that doesn't include machine monitoring requirements," Sahr said.
In fact, the WPS 102i can be precisely controlled by stringline scanning, stringless 3D applications, or Autopilot 2.0 from Wirtgen, offering a smoother ride and more accurate work for operators.
Sahr highlighted how GPS cloud-based technology machine control can help operators to be more exact and reduce the time it takes to train new hires.
"Machine control is not the future, it's now," Sahr said. "Many state and federal jobs write in technology as part of the job's bid spec."
Because of Northern Improvement's skilled work, along with the help of RDO and WIRTGEN Group, more than 75,000 cubic feet of concrete was placed each day, resulting in 1.25 miles of paved southbound lanes between I-29's Hickson and Oxbow exit as of Aug 1. According to InForum.com, before the end of the season, they expect to complete another 1.5 miles and complete the project by fall 2023.
Read more about how RDO team members partners with customers to build and grow their construction business.
---
Want to learn more about the WIRTGEN Equipment including concrete spreaders and placers? Discover more through these on-demand webinars.