Throughout the past few weeks, many aspects of everyday life have become unpredictable. However, construction progress at the new RDO Equipment Co. store in Dayton has continued as planned – and, in fact, is set to be completed ahead of schedule.

With May marking the home stretch, the store is scheduled to open on Wednesday, May 20, two weeks ahead of its original expected open date in June.

Furniture install, including parts counters, and interior finishes were completed last week, as were the final punch list items and inspection. Other finishing touches, including flooring, signage, and storefront glass installation were all completed this week.

In the uniquely designed parts warehouse, the space has been thoughtfully designed using a vertical space technology system for maximum storage and easy accessibility for fast locating and fulfilling of orders. Parts racking install is finished, and parts began arriving earlier this week. The warehouse will be fully stocked with more than $2 million dollars of spare parts inventory by opening day.


The main service shop saw its final pieces come together last week, with HVAC, overhead cranes, and overhead door installs all completed. Additionally, the shop's ClearBlu Environmental system, a hallmark of RDO stores, is installed and ready to go. This water recycling system works by filtering the water used for washing equipment, allowing it to be reused continually.

The store also features a second service area, specific for Topcon customers. This 1,100 square-foot-space is a dedicated service area for Topcon technology including GPS, machine control, optical, survey, and UAV. The complete service team, which features specialists for each John Deere, Vermeer, and Topcon equipment, will be in place next week and ready to serve.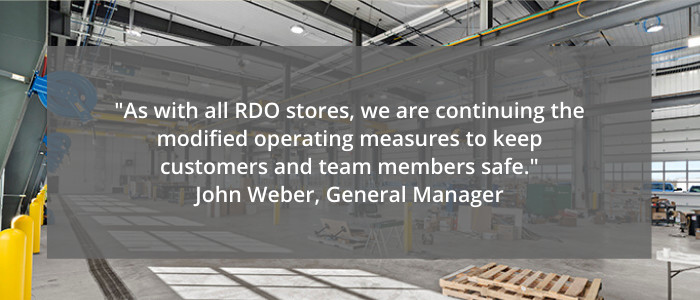 While the store will be open for full sales, parts, and service business, the team is committed to following the state's guidance for the health and safety of all who enter the store. As with all RDO locations, the Dayton store is in compliance with safe social distancing and hygiene practices recommended by the Center for Disease Control, including 6-ft distance barriers at the parts counter and curbside parts pickup, limited points of entry, and thorough daily cleaning.

"We are continuing the modified operating measures to keep customers and team members safe," John Weber, Dayton's General Manager said. "Our customers are running essential businesses and we're excited to be open and ready to serve as construction season really ramps up."

Kelly Gress, Vice President of RDO's Midwest East Construction region, says the new Dayton store is exciting for customers who do business on the north side, as well as those who work across the full footprint of the Twin Cities metro, with a full-service equipment, parts, and service location now open in Dayton that complements the existing RDO stores in the area.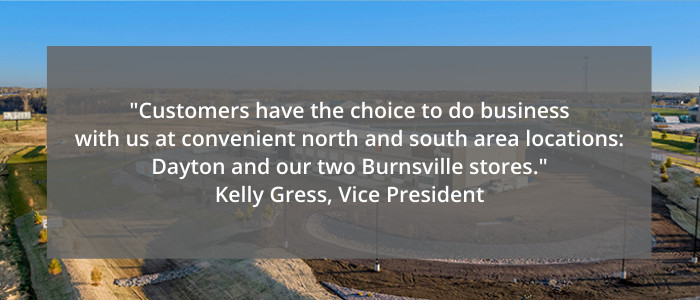 "Customers have the choice to do business with us at convenient north and south area locations, with Dayton on the north side and our two Burnsville stores on the south end," he said.

Kelly also added there are still a few critical positions open for those interested in joining the RDO Dayton team and directed to visit the RDO Careers website to learn more.

At nearly 45,000 total square feet, the Dayton store is RDO's largest construction-focused store in Minnesota. A grand opening is planned for next year; watch for more info here on the RDO website and follow the RDO Dayton store on Facebook.

--

For more information on new, used, and rental machines, as well as parts, service, and technology support, contact your local RDO Equipment Co. store.