The agriculture industry is seeing growers holding onto equipment longer than usual, putting them in prime position to upgrade – and not just to brand-new machines. John Deere, for example, is forecasting an increase in both new and used equipment sales to address these aging fleets.

However, there appears to be apprehension for growers to purchase pre-owned machines. Why? Because, even with the known advantages and sensibility of buying used, misconceptions still exist about buying used agriculture equipment.

Here are five common misconceptions about used farm equipment and the reality that proves pre-owned machines can be a solid investment for agriculture professionals.

Misconception #1: It's Too Risky to Buy Equipment In This Economic Climate
There's no doubt the current farm economy is challenging. But growers, in general, are no strangers to ups-and-downs, and the fact remains that quality equipment is needed to work.

Used equipment is an economical way to acquire needed equipment. An important piece of the risk management puzzle is taking a proactive approach to finding a reputable seller. A trusted equipment dealer is one of the lowest risk, most reliable sources for finding a used machine.

Not only are machines from a dealership well-cared for by knowledgeable, certified technicians, some companies go above and beyond to ensure a used machine is a good buy. RDO Equipment Co., for example, follows a strict 100-point inspection and reconditioning process on all used agriculture machines. This removes most of the buyer's risk right off the bat.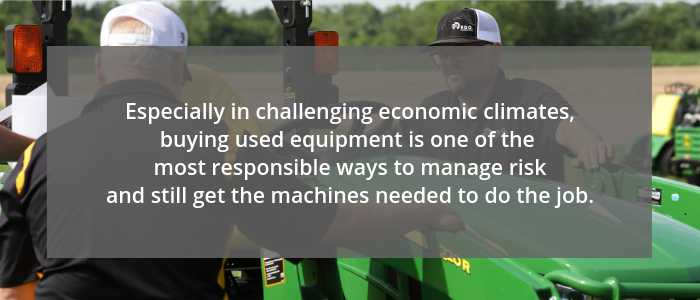 Trusted dealers like RDO care about establishing partnerships with customers, not just a one-time sale, so there's an added level of commitment to ensure customer satisfaction with a quality machine and after-sale support.

Misconception #2: I'll Never Be Able to Find the Exact Machine I Want
The agriculture market has changed and there aren't as many growers trading one-year-old machines. However, there's typically always a good selection of used machines at the two-to-five year mark, as well as some still participating in one-year-roll programs. This gives plenty of opportunity for used seekers to find the specific machine they're looking for.

For the best selection of options, dealerships with a network of stores have the ability to source machines from other locations. If the specific piece isn't available at a buyer's local store, there's a good chance the team can find it at another store and deliver it.

Misconception #3: When I Buy Used, I'm Just Buying Someone Else's Problems
Not all used equipment is created equal but there are plenty of valid reasons a grower trades in a machine that have nothing to do with its health or performance – company growth, tax benefits, or changing crops are all common reasons.

To help ensure a used machine is low risk, an interested buyer can ask about and look for the following things.

First, ask for a detailed record of the machine's service history, what was done and when.

Second, find out how and where the machine was used. A lower-cost machine may look good on paper but a deeper dive could reveal that it spent a lot of time in a rice field with standing water – a potential red flag for issues.

The third and a crucial question to ask is about the machine's warranty. Going back to the conversation about managing risk, many lenders are only comfortable providing loans if a machine includes a warranty. In most cases, the manufacturer's warranty follows the used machine to its new owners, offering added peace of mind.

Next, every purchase should include a visual inspection.

Photos and sometimes video walkarounds can be provided in advance to help a buyer narrow down potential choices.

In person, look for obvious concerns like oil leaks or excessive wear. Tires should be inspected, as damage isn't always visible in photos or from a distance.

Some sellers allow a pre-purchase demo of a machine. Take advantage of this to feel for rough operations points or anything that doesn't feel right. Look for obvious red flags like smoke and listen for noises that sound troubling.

Misconception #4: I Can't Get New Technology On A Used Machine
As a result of early GPS and auto-steer advancements, technology has become standard on new tractors. Even better news, technology and displays can be added to most older machines, too and many older machines already have these upgrades, as growers have realized the value of technology and adopted it.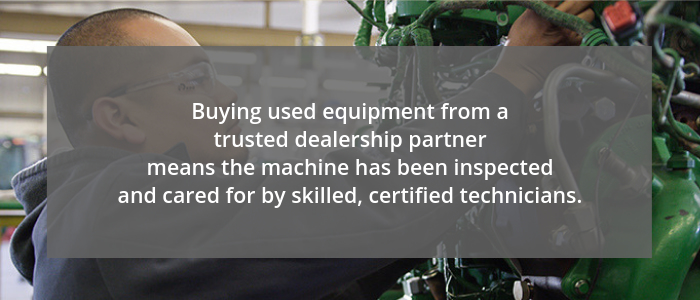 Similar to a warranty following a used machine to its new owner, technology subscription services often stay with the tractor or combine. Deere, for example, is proactive about offering its Connected Support solution for agriculture equipment, which offers opportunity for the machine to communicate with dealership professionals who track preventative maintenance, monitor machine health and alerts, and offer additional custom support for each customer's needs.

RDO supports Connected Support on Deere machines and also offers its own fleet program, RDO Connect, which works with nearly all brands of equipment and is ideal for mixed fleets. RDO also has a good inventory of the latest technology that can be added or upgraded on used machines, depending on customer needs.

Misconception #5: Used Equipment Isn't a Good Long-Term Investment
While every growers' situation is different, used equipment absolutely can be the best investment – both short-term and long-term.

The short-term benefit is much clearer to see: the initial cost of a used machine is lower than a new model. It's typically the long-term outlook that can make some buyers hesitant.

What if there's hidden problems I can't see? Will I have to spend more time on maintenance? Is it possible the machine will need significant repairs or rebuild early on?

These concerns, if they ended up being true, would add up quickly. But assuming the time has been put in to research the seller and inspect the machine, it's unlikely to purchase a money pit disguised as a quality machine.

Along with strict inspection and reconditioning of all used machines, some dealers offer maintenance support and packages. On top of the warranty transferring, this adds peace of mind for the buyer.

Another piece of the puzzle comes down to tax incentive opportunities. Last year, bonus depreciation rules changed, making used equipment eligible for bonus depreciation. Adding to that, bonus depreciation went from 50% to 100%, which is expected to remain for a few more years before phasing down. All companies should consult their tax advisor or accountant to discuss the financial details of buying used equipment.


A final note: Price matters but it shouldn't be the deciding factor. Used agriculture equipment is available at many price points – and quality levels. Buyers must be aware that, while one used machine might be several thousand dollars less than another with similar hours, the more expensive one may be the smarter buy, offering more in features and health.

Taking the time to follow a thorough process is the best way to separate the misconceptions from reality and make the used equipment buying process enjoyable and beneficial to the bottom line.


--
Browse listings of all used equipment for sale or learn more about new agriculture equipment from John Deere and other manufacturers. To see all available equipment, visit your local RDO Equipment Co. store.