This year's CONEXPO-CON/AGG is one we will never forget. Not only did the show see record attendee numbers and buyer attendance improvement of 5%, it was also a show of new experiences. I don't think we realized at the time that some of these experiences would still be with us two months later and setting the foundation for how our business might change.

Thinking back on CONEXPO, old friends greeted each other without a handshake, instead offering elbow bumps, which probably looked odd at best. Some top manufacturers booths had equipment but no people. Hand sanitizer was abundant and available across the exhibit halls. Some days it seemed we talked more about a virus than the equipment. And the show closed a day early as a safety precaution to the concern of early COVID-19 spreading.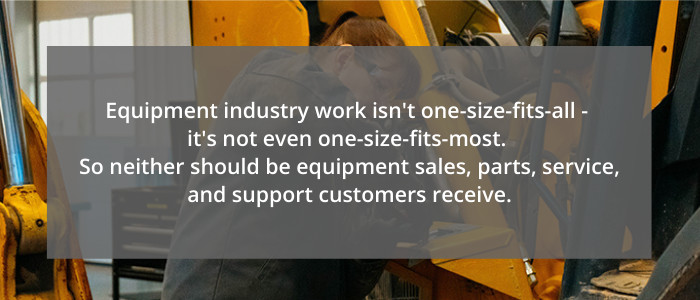 Since then, change has been our constant companion, impacting the way we live and work, socialize and spend our free time. These changes have also been a reminder to dealers of the need to continue to adapt to customer needs, across numerous industries in the equipment space, and a catalyst for innovation to meet them.

Adapting to Serve
Whether farming, underground utility work, or roadbuilding, work isn't one-size fits all and neither should be equipment sales, parts, service, and support – it's not even one-size-fits-most. Every customer's unique needs are the animating force behind the way in which we deliver our services. Agriculture and most in the construction industry have been deemed as essential businesses and the need to have equipment and keep it running has remained essential as well. In speaking with customers, observing what others are doing, and based on what we've been doing in our RDO Equipment Co. stores, here are the key ways dealers are shifting focus and continuing to support essential businesses, safely and efficiently.

Kicking the Tires from a Socially Safe Distance
Perhaps nothing has been impacted more by COVID-19 than the equipment buying and selling process. No longer are customers stopping by a store and walking the lot with a salesperson. Some showrooms are roped off, have limited access points, or, in the cases of some of our dealer competitors, have closed altogether. The once normal practice of salespeople stopping by jobsites to see how machines are working or conduct a new equipment demo is now challenging or, in some areas, has stopped altogether. Even the simple act of contractors and dealers getting together to talk about new projects and opportunities aren't easily happening.

However, dealers are getting creative to keep those face-to-face relationships with customers, using tools like Microsoft Teams to schedule video check-in and catch-up calls. We're also seeing equipment walkarounds, previously done as general overview videos, get a more personal touch with contractors and dealers connecting via Facetime or Google Duo for more one-on-one walkarounds.

On-Demand Ordering and Getting Parts
The act of ordering and receiving parts is another crucial piece to the dealer and contractor puzzle that has been altered by COVID-19. While some dealerships that have remained open are still staffing parts counters, social distancing has created a barrier – both literally and figuratively – to that usual, important person-to-person connection between staff and customers.

For most dealers, online, email, and phone parts ordering has always been offered but now, the push to conduct parts business in a contact-free way has been one of the biggest for dealers. In addition to pushing these options versus encouraging customers stop by the parts counter, there have also been new efforts for parts pickup and delivery, too.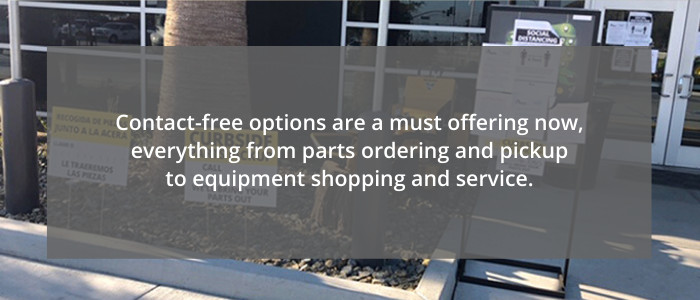 RDO stores for example, offer outdoor or curbside pickup, delivery in certain areas, and shipping, giving customers numerous choices to get their parts however it works best for them, with many other dealers offering similar options.

Contact-Free Equipment Service
Not to be forgotten, equipment service remains crucial, as many infrastructure projects, deemed essential work, continue with deadlines and benchmarks to be met.

Thinking about the idea of contact-free service, the phrase itself is an oxymoron. How do you get service for your machine without interacting with the service technician? A machine throwing a code may just need a simple software update, but how does that happen without a dealership employee stopping by with the flash drive that has the update?

While regular service requests, either in a dealership's shop or in the field, are still going to come with some level of interaction, most dealers offer the option to request online or over the phone, offering one less point of contact. Watch as Vice President of Customer Support, Jeff Lemna, further explains RDO's contact-free support options.


At this point, we still don't know the long-term impacts of COVID-19 on our industry and our daily lives in general. If there's one thing we can agree on, it's that there's only one way to look: forward. As companies continue to move dirt, build and repair roads, and keep people and businesses connected, dealer partners will be here and continue to adapt however needed to keep serving.


--

About the Author
Dennis Howard has spent more than a decade with RDO Equipment Co.'s construction equipment division, working with teams in the company's Texas and the Desert Southwest regions. As a Vice President, he focuses on fleet management, with used construction equipment values and heavy equipment sales two of his key areas of expertise. AEMP ForConstructionPros.com He's a member of the Association of Equipment Management Professionals ( The Track – Used Equipment from RDO), a regular contributor to @RDODennisH, and host of @thebigironguy. Subscribe to The Track on YouTube, or connect with Dennis personally on Twitter @RDODennisH and Instagram @thebigironguy.