RDO Equipment Co. and R.D. Offutt Company are pleased to announce PATH ND is the charitable partner of its 20th annual RDO Caters Taters for Charity luncheon, taking place Tuesday, November 26, at the Delta Hotels by Marriott Fargo.

At RDO Caters Taters, 100% of event proceeds benefit the partner charity. This year, PATH will use funds to support its Independent Living Program, which provides skills, knowledge, and support to youth, ages 14-23, who are transitioning to adulthood.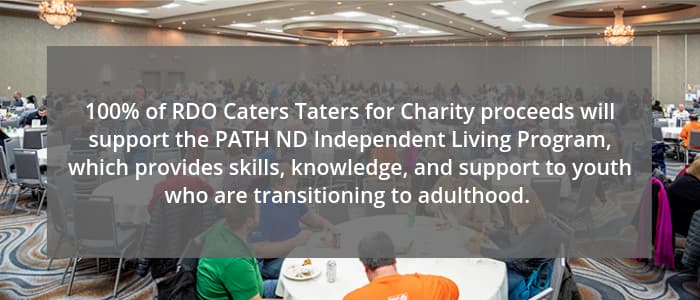 "We at PATH of Nexus are very excited and grateful to have been selected as the recipient of this year's RDO Caters Taters fundraiser," Nancy McKenzie, PATH Executive Director said. "This wonderful community event will not only provide crucial funds for our Independent Living program, but will also allow more people to learn about PATH and its services to youth of all ages with a variety of needs."

The Independent Living program provides youth who are aging out of foster care the kinds of supports that youth who live with their own families typically have; for example, gaining skills in budgeting and money management, job resume and interviewing, higher education and financial aid applications, or setting up their first apartment with basic supplies.

McKenzie continued, "Being able to support this transition decreases the problems that many youth coming out of foster care experience: homelessness, joblessness, involvement with law enforcement, and teen pregnancy. Thank you for RDO for selecting PATH and the community's willingness to support this service to youth who need that extra support."
PATH's Independent Living program serves more than 425 youth annually in successfully transitioning to adulthood. The mission of PATH/Nexus: Changing the course of a child's life by stabilizing families and strengthening mental health.

2019 marks an exciting year for RDO Caters Taters for Charity, as the event celebrates its 20th year supporting charities in Fargo-Moorhead and bringing together the community to enjoy lunch, conversations, and camaraderie.

Watch to see what it's like to attend RDO Caters Taters for lunch.


"Even after 20 years, I look forward to this event and seeing the wonderful work it allows charitable organizations to do in our community," Ron Offutt, Founder and Chair Emeritus of R.D. Offutt Company said. "The event wouldn't be possible without the dedication of our team members and the generosity of the community, continuing to come out and support…and, of course, enjoy potatoes."

The event has raised more than $675,000 for charities throughout the years, including YWCA Cass Clay, CCRI, Inc., and, most recently, the Great Plains Food Bank.


"The history of this event is focused on two key things: the opportunity to engage the community in a fun way, then also impacting a local charity," Tom Espel, Corporate Treasurer of R.D. Offutt Company said. "As we've grown the event throughout the years, more people have been served and more dollars raised, helping make the community a better place to live, and I think that's something our entire team takes great pride in."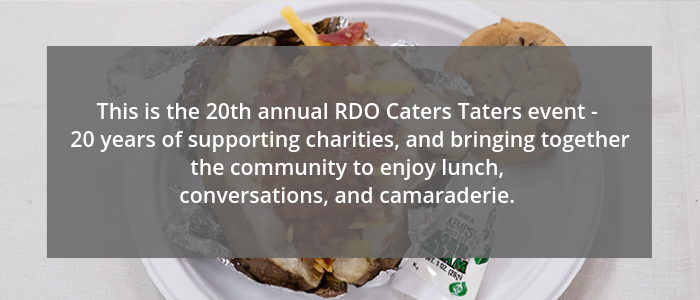 Visit rdocaterstaters.com for more information about the event, RDO Caters Taters sponsorship opportunities, and additional ways to support PATH ND. Like the RDO Caters Taters Facebook page and follow RDOCatersTaters on Instagram to keep up on the latest event news and see special photos.
###
About RDO Caters Taters for Charity
RDO Caters Taters for Charity was formed in 2000 as a way to give back to the community. Several partner businesses, both local and national, join the effort and donate products, materials, and other goods and services to make RDO Caters Taters possible every year. With the added support of the Fargo, Moorhead, and West Fargo communities, numerous volunteers, and RDO team members, the event has grown every year and continues its mission to impact local charitable organizations.