The National FFA (Future Farmers of America) Organization has a rich history as an organization that prepares young members for leadership, personal growth, and career success through agricultural education.

The organization also has a history with RDO Equipment Co. Team members across the footprint have participated in the FFA and, particularly in RDO's Midwest Agriculture region, the support has extended to sponsorship and participation in career fairs and other events.

The FFA became a nationwide organization in 1928 and, today, is among the largest youth organizations in the United States, with more than 650,000 members across more than 8,500 chapters throughout the 50 states, Puerto Rico, and the Virgin Islands.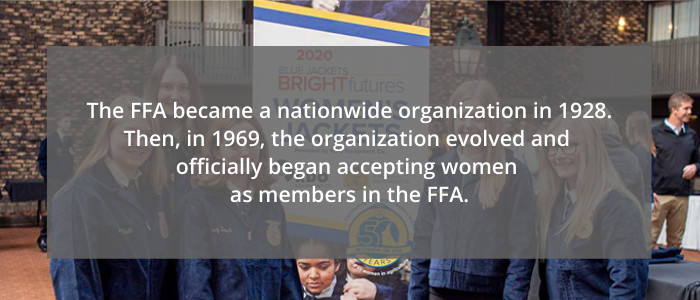 But the growth isn't limited to sheer numbers. Just as RDO has grown and changed throughout its 50-plus years in business, the FFA has evolved throughout the years, expanding into new areas and serving more people.

50 Years of Women in FFA
In 1988, FFA realized that it was more than just a place for those who wanted to be production farmers. FFA is for those who aspire to be doctors, scientists, teachers, veterinarians, and entrepreneurs. The company evolved to better reflect this broader scope.

Another big change for the organization came in 1969, when women were officially accepted as members in FFA. This 50-year milestone was celebrated last year, with an official recognition on October 15, 2019.

Ahead of this announcement, RDO chose to build on its existing support of FFA and mark the occasion with a significant investment and partnership, specifically with the North Dakota FFA Foundation.

Blue Jackets, Bright Futures
Five years after the FFA was founded, blue corduroy jackets were introduced as the official dress. Today, the jacket is a symbol of unifying members in a long-standing tradition and serves a reminder they are part of something larger than themselves.

Each year, the ND FFA Foundation provides hundreds of blue FFA jackets to members who may not have the financial resources and/or to those who have displayed and demonstrated leadership qualities and personal growth, through their program Blue Jackets Bright Futures. Each jacket given through this program is sponsored by a donor, through a $74.00 contribution. Any individual or organization can become a jacket sponsor.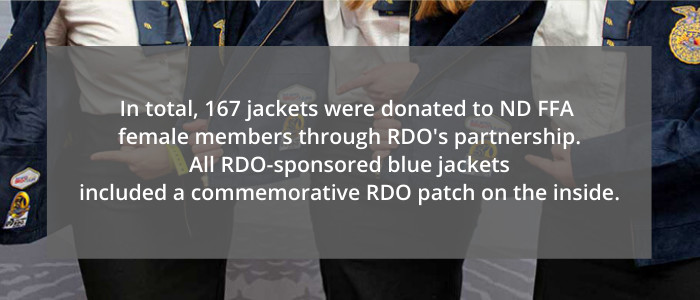 RDO teamed up with the ND FFA Foundation in a partnership that included a commitment to donate all FFA jackets given to female members through the Blue Jackets Bright Futures program. In total, 167 women received a jacket, which included a commemorative RDO patch on the inside.

"RDO has always been eager to support the North Dakota FFA and the meaningful work the organization is doing with the youth of our state," Steve Connelly, RDO Vice President of Midwest Agriculture said. "With 2019 marking 50 years of women in the FFA, it was important we took the opportunity to celebrate alongside the FFA and recognize such a meaningful milestone for this organization and the overall strong presence of women in the agricultural industry."

"We are so thankful for this incredibly generous gift by RDO," Tommy Winders, Sponsor and Program Coordinator of the ND FFA Foundation said. "The Blue Jackets Bright Futures program is very special to our organization and RDO's gift highlights their genuine commitment to the importance of the agricultural industries and its women."
The ND FFA Foundation is a 501c3 nonprofit whose mission is to support the leadership opportunities and activities of the ND FFA and agricultural education. It does this by building partnerships with industry, education, government, other foundations, and individuals to secure financial resources which allow scholarships, financial assistance, and sponsorship of the ND FFA State Association's activities in order to help grow leaders, build communities and strengthen agriculture.

What's Next
RDO's sponsorship of the Blue Jackets, Bright Futures program has made a positive impact on several North Dakota FFA members. And there's more to come.

In addition to continuing the ongoing partnership, this June, the North Dakota FFA chapter is holding its annual state convention. RDO will be participating as a sponsor, with the opportunity to connect, not only with student members, but their parents as well, and help showcase the opportunities of pursuing a career in agriculture.

RDO is proud to continue its support of FFA. It's an important organization that plays a crucial role in setting up today's youth for bright futures – whether that be the next farmer, doctor, lawyer, or RDO Equipment Co. team member.

--
Interested in a career at RDO Equipment Co.? Visit RDO Careers to learn more about current openings, culture, benefits, and much more.