Safety Manager Greg Erickson collaborated with team members throughout several states to create a Safe by Choice program where team members selected five reasons to handle equipment, technology or any customer interactions safely. To kick off National Safety Month, we revisit with Erickson and other team members to talk about this program helping to drive a culture of safety across more than 75 RDO Equipment Co. stores.
"We continue to engage team members from frontline to leadership to create impactful changes and repeatable processes to operations and training," Erickson said. "Different regions are creating safety initiatives which work for them. The Safety department collaborates to fit the idea within our framework, and we support their efforts to ensure the initiative has visibility and longevity."
Leading to the development of Safe by Choice, efforts to ramp-up safety at RDO netted a quick and unsurprising improvement in Occupational Safety and Health Administration program's metrics, the result of a few changes that made a significant safety impact, according to Erickson.
While obvious safety changes were necessary, industry trends revealed they may not last. Research into other companies' new safety initiatives revealed an ominous trend, : a rapid improvement in metrics, followed by a leveling-out and an eventual descent back toward uglier numbers.
"We learned that what tends to happen is big, quick improvements lead to complacency because companies think they've done so well. Then progress stagnates and eventually starts to get worse again," Erickson said. "We could not let that happen."
The Safe by Choice program was born of the decision to avoid letting RDO become part of that trend. To do this, the Safety team set out to drive home the idea that safety does not happen by itself. These unique elements of Safe by Choice — three philosophies and six rules, paired with five personal reasons to be safe — not only make it easy to remember that safety is a choice, 365 days of the year, but they also make up the new script for talking about safety at RDO.
Get to know a few RDO team members who share how they create a culture of safety through mindfulness and encouragement.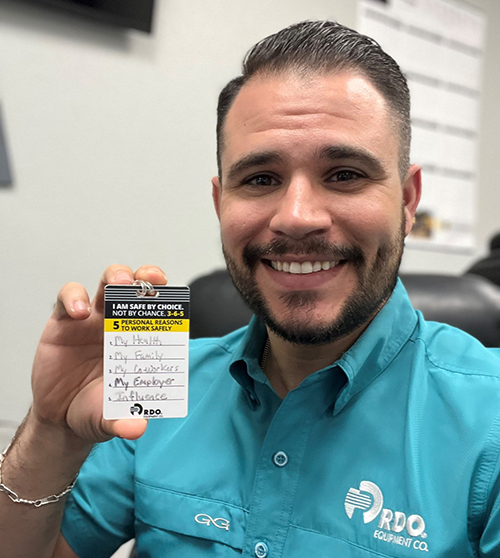 Joseph Centeno, Field Service Manager — New Braunfels, Texas
Centeno explains the safety cards RDO team members carry are reminders of principles and philosophies and why safety is so important.
"I do not just prioritize safety, I value it," Centeno says. "Working safely not only builds a great culture, but it also gets me home to my family, and builds trust with our teams and our customers."
---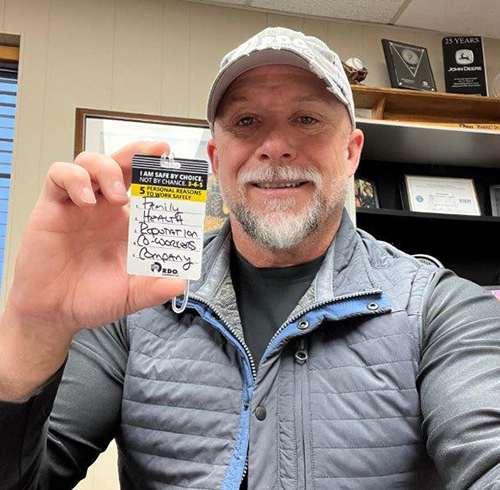 Sid Houdek, General Manager — Rapid City, S.D.
Houdek knows there are no shortcuts when it comes to being safe, whether that is at work or at home.

"I see my Safe by Choice card every time I go into my office," he says. "It's a visual reminder that helps me stay focused on my reasons to work safely and to keep safety first as I lead the team here in Rapid City!"";
---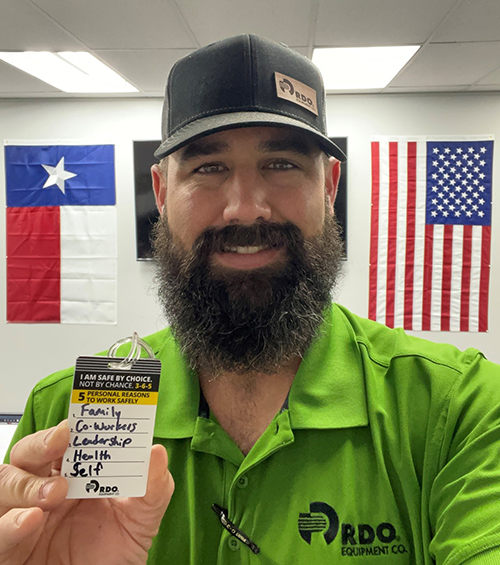 Matthew Barnett, Field Service Manager — Irving, Texas
Safe by choice, not by chance: this is a statement Barnett lives by.
"I choose to be safe at work. It's important that RDO team members and customers return home to our family and friends every night," he says.
---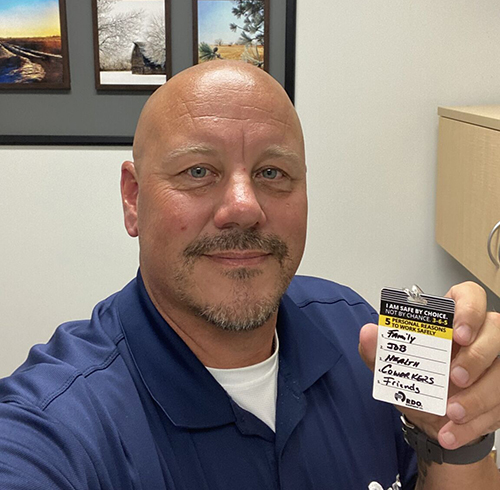 Ken Sisk, Service Operations Manager — Chandler, AZ
Sisk emphasizes that he and his team always follow safety guidelines, no matter the job.
Everyone has the duty and responsibility to ensure that we're working in a safe environment so that we all can go home at the end of the day, Sisk says.
Creating a culture of safety is an ongoing effort. Erickson and all the RDO team members continue to participate in safety assessments and training, hazard recognition, and any specific Job Safety Analysis (JSAs) including Mine Safety and Health Administration training before visiting specific environments.