Lorenzo Miranda is a retired Army veteran. He owns his own business, Lorenzo's Lawn and Tree Service, providing yard work services to his customers in Southern California. He relies on his tools to get his work done and, in turn, provide for his family.
Lorenzo awoke one morning to find that his truck had been stolen, along with all his equipment and tools. He was at a loss. But when word of the theft spread, Lorenzo's community was determined not to let him down.
A fellow member of the local American Legion began calling around, hoping to help Lorenzo get back on his feet. One of those calls was made to RDO Equipment Co. Regional Sales Manager Chris Bostic.
"This equipment was Lorenzo's livelihood, and without it, he wouldn't be able to make a living," Chris said. "It was a clear opportunity for us to help a member of our community and someone who served our country, at that."
Chris connected with Imperial Store Manager Steven Daniloff, who quickly agreed to join local businesses stepping up to help. He approved RDO Imperial donating a new mower to Lorenzo. To top things off, they added a Stihl blower and trimmer to mix, too.
Then it was time to invite Lorenzo to Imperial store. When he realized RDO had sourced new equipment for him, he felt astonished.
"Even though Lorenzo's world had been turned upside down, he was very jovial and down to earth," Chris said. "The few minutes we spent with him was enough time to get a read that he was a standup gentleman and a hard worker for his family. It definitely validated we were helping the right person at the right time."
The team was able to help in just the right way and in doing so may have built a customer for life.
"He told me he didn't realize we sold Stihl and Honda products but that he had now found a new place for all of his lawn care purchases in the future," Steven said.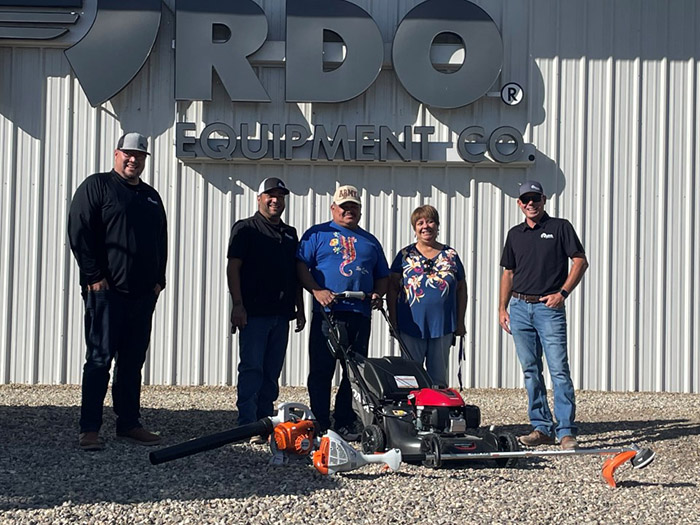 From left: Store Manager Steven Daniloff, Lead Parts Specialist Steve Garcia, Lorenzo Miranda, representative from the America Legion Mrs. Campos, and RSM Chris Bostic.