Northwest growers celebrated with John Deere representatives and RDO Equipment Co. team members after its community agriculture equipment store received a much-needed upgrade.
"We had outgrown the old store quite some time ago, and the team only continues to grow," Vice President of Northwest Agriculture Ian Carey said. "There were times we had to shuffle machines around to different stores in the region because we just didn't have room to work on them."
Ian says the team is well-equipped to meet the community's increasing agricultural needs because of the store's 20,000-square-foot showroom, a 6,500-square-foot parts warehouse, a 15,535-square-foot service shop with 12 service bays and a dedicated training area.
A much-needed expansion from the previous building, the store first opened its doors earlier this summer. The ribbon-cutting ceremony and grand opening event was delayed until fall to allow the RDO team time to adjust to their new and improved work environment.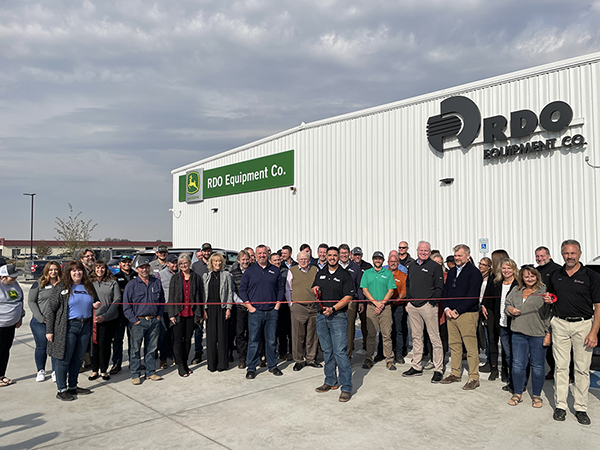 On Thursday, Oct. 20, the ribbon cutting ceremony marked the grand opening of the Moses Lake store.
October's event included giveaways and a complimentary luncheon. In fact, RDO executive leadership made time in their busy schedules to attend the half-day celebration to highlight the company's continuing commitment to building and growing the Northwestern Agriculture team's capabilities to serve growers.
"This is really important to us," said Chief Executive Officer Tim Curoe to Charles Featherstone Columbia Basin Herald reporter. "We have a great customer base, a very loyal customer base. And we really needed to invest in the community to take care of our customers and to make sure that we're providing a great place to work for our technicians and our employees."
Ron Offutt - Founder and Chairman of R. D. Offutt Company - joined Tim along with Executive Vice President Daryl Shelton, Chief Operating Officer Chris Cooper and Vice President of Northwest Agriculture Ian Carey.
"It was awesome to formally welcome customers into the store. It was a chance to show them our appreciation and commitment to their businesses into the future," Ian said.
RDO expanded to the Columbia Basin when it purchased Othello-based Evergreen Implement in 2018.
Tim said it was important to create the new facility in Moses Lake from the ground up as demand from farmers in the Columbia Basin — from the Tri-Cities north — is very important to RDO.
Besides Tim, Daryl and Ian spoke during the morning's customer appreciation reception to highlight the region's vibrant agriculture before the ribbon cutting at 11:30 a.m. with Moses Lake's Chamber of Commerce and Mayor Myers.
Moses Lake Store Manager Jacob Garza said the move to the new facility has allowed the company to expand its service operations, including hiring 15 new technicians to staff the huge repair bays. In addition, the facility has heated floors, an indoor wash bay and four giant overhead cranes to help lift heavy items like engines and harvest heads.
"That's just been the talk of all our technicians, the envy of all shops right now, to have those cranes up," he said.
Stay connected RDO Moses Lake team members by following their RDO Moses Lake store on Facebook for information and updates.
--
For more information about RDO Equipment Co. or to connect with one of our agriculture equipment or precision ag experts, contact communications@rdoffutt.com.