It is the biggest fear and the worst nightmare of every parent, family member, and friend. A young person takes his or her own life. Whether they seemed to "have it all," or it was more apparent they were struggling, there is nothing more heartbreaking than losing someone to suicide, especially someone with their whole life ahead of them.

This was the case with a young man named Justin. A straight "A" student, starter on his high school football team, an Eagle Scout, and a talented musician, Justin shocked those around him when he took his own life days before graduating high school. It was not until after this tragedy that his family and friends found out he had been battling high-functioning depression.

A new nonprofit organization, Justin's Break the Silence, was established to eliminate the stigma around mental health and help bring awareness to others on what to recognize and how to support. It is just one example of many mental health nonprofits, both newer, grassroots efforts and larger, more established ones, that are focused on a key audience: young people.

Addressing a Need
Youth mental health is an important topic and one that the Offutt Family Foundation, with support from R.D. Offutt Company, looked to address through its Community Builder grant program.

The Community Builder program is a unique initiative designed to support charitable organizations and nonprofits that RDO team members are passionate about and serve the greater good in their communities. All RDO team members were invited to apply for this year's Community Builder program, which had a special focus on supporting youth mental health nonprofits.

Jessi Zenker, Social Media Manager at RDO's Field Support Office in Fargo, North Dakota, and Mike Forbes, Farm Controller at R.D. Offutt Farms in Park Rapids, Minnesota, are two team members who responded to the opportunity. Both nominated Justin's Break the Silence for a Community Builder grant after seeing the benefits of the charity's efforts in the community.

"'It takes a village' looks a lot different in 2021 than it did back in the 90's when I was a kid," Jessi said. "What this organization is trying to do is help us, as a community or a 'village,' take care of those in need. Through education and awareness, we learn how we can help, how we can listen, and what we can watch for."

Jessi and Mike were not the only RDO team member driven to make a difference through the Community Builder program. Numerous RDO Equipment Co. and R.D. Offutt Farms team members stepped up across the entire company footprint, from Southern California to Eastern Washington, to the Upper Midwest and the heart of Texas, nominating charities that they either had a personal connection to or they recognized as ones doing important work in their communities.

Support Across the RDO Footprint
Here are a few more photos and short stories to highlight the organizations serving youth in the communities across the RDO footprint.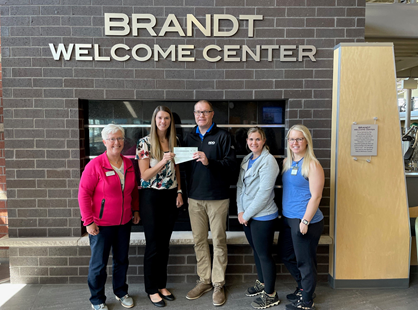 RDO's Field Support Office (FSO) team members were eager to show their support for charities in the Fargo, Moorhead, and surrounding communities. In addition to Justin's Break the Silence, charities included BIO Girls, Fargo Public Schools Development Foundation, M3, and Family Wellness Life Strides, a program that focuses on improving youth mental health through exercise and movement.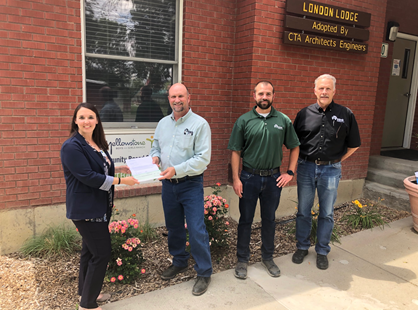 Three organizations in Montana received Community Builder grants. The Nate Chute Foundation for Suicide Prevention, the Tumbleweed Runaway program, and, pictured above, the Yellowstone Boys and Girls Ranch, an organization that provides mental health programs and services to emotionally disturbed youth and their families.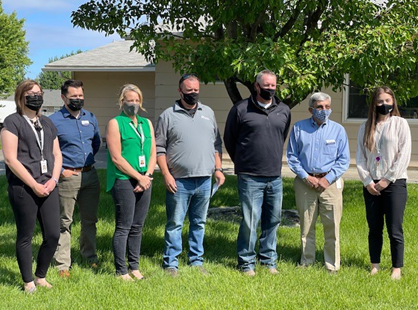 The Boys and Girls Clubs of Moses Lake was one of three grant recipients in Washington. The other two, Benton-Franklin Youth Suicide Prevention Coalition and Chaplaincy Health Care, pictured above, are both serving youth in the Tri-Cities area.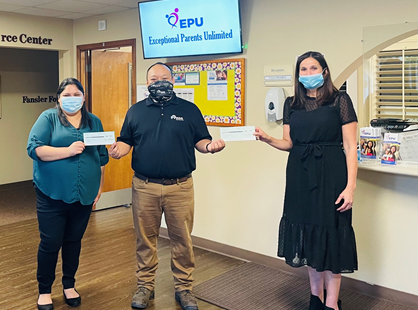 Both Arizona and California saw participation in the Community Builder program, with Spreading Threads Clothing Bank in Tucson, and Exceptional Parents Unlimited in Fowler. Nhia Vue, Service Manager at RDO in Fowler, shares checks with his nominated charity, EPU. The organization addresses children and families with special medical and behavioral health needs.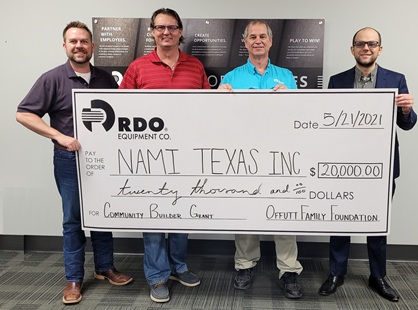 RDO's Texas teams came out strong in showing their support for causes in their communities. In total, five organizations across the Texas footprint received grants: The Brit Rose Foundation, Connections Individual and Family Services, Hill Country Bowhunters, Righteous Roots, and National Alliance on Mental Illness, pictured above. The organization believes early mental health intervention is critical because it facilitates long-term wellness, helps young people stay in school, and offers a pathway to achieving life goals.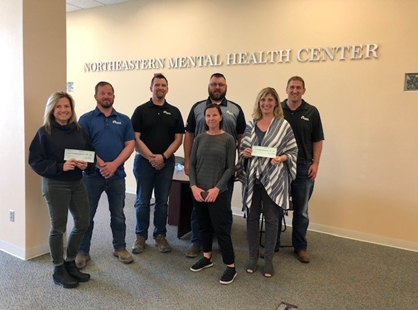 Two organizations in South Dakota received grants. Lutheran Social Services was nominated in Rapid City, while Northeastern Mental Health Center, pictured above, will use the funds to enhance regional education on reducing stigma and mental health, and connection and access for rural services.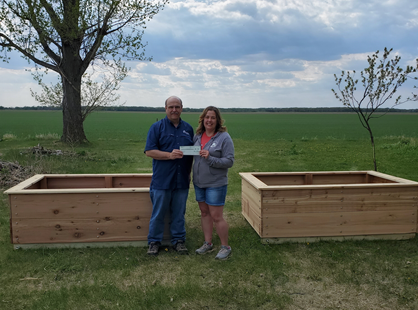 Outside of the Fargo-Moorhead area, four organizations in North Dakota and three in Minnesota were Community Builder recipients. Cass HOPE Group, Coal Country Community Health Center, Hazen Softball boosters, and, pictured above, Harvest Hope Farm were North Dakota recipients.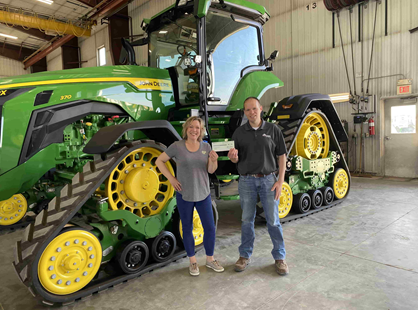 Minnesota charities that received Community Builder grants include H.O.P.E. Coalition, Rural Enrichment and Counseling Headquarters, and pictured above, Richland-Wilkin Kinship, which provides mentoring services to youth.


Through the Community Builder program, the Offutt Family Foundation awarded 32 grants to mental health nonprofits specifically addressing youth depression, anxiety, and suicide prevention. R.D. Offutt Company matched the funding put forth by the Offutt Family Foundation, doubling the impact to these important causes. In total, $324,000 were awarded to the recipients across the RDO footprint.

--

RDO Equipment Co. embodies a stakeholder philosophy, serving all those who make our business what it is. See the ways our team members impact the communities in which they work and live.