When Lake Agassiz Habitat for Humanity announced that the Fargo-Moorhead community had been selected for this year's national Blitz Build event, it was a rare and unique opportunity to make a big impact for several local families.

"It's a huge honor for a community to be chosen by Blitz Home Builders," said Jean Zimmerman, Executive Director of Offutt Family Foundation. "Building homes for local families in need is fantastic way to make a real difference, so this was definitely a cause the Offutt Family Foundation wanted to support."
Once each year, Blitz Home Builders, a nonprofit consisting of volunteers from across the country, partners with a Habitat for Humanity affiliate for their Blitz Build event. During these events, the Blitz Home Builders volunteers and volunteers from the selected community join to construct between two to five new houses in 10 days or less.

Both Offutt Family Foundation and R.D. Offutt Company's Community Responsibility Committee (CRC) stepped up to contribute to the event. As part of financial sponsorships, a number of volunteer spots were offered to R.D. Offutt Company team members, more than 30 of whom took advantage of the chance to get involved.

"I wanted to take part in the Blitz Build because I thought it sounded like a great opportunity to get my hands dirty and help build a home for a family in need," said Jordan Moore, IT Security Administrator.

Upon arrival at the worksite, Jordan was given a hard hat, tool belt, and directions before jumping right into the action. He worked on a variety of tasks including installing hurricane clips with joist hangars, doing touch up framing, installing windows, and wrapping the house exterior with Tyvek.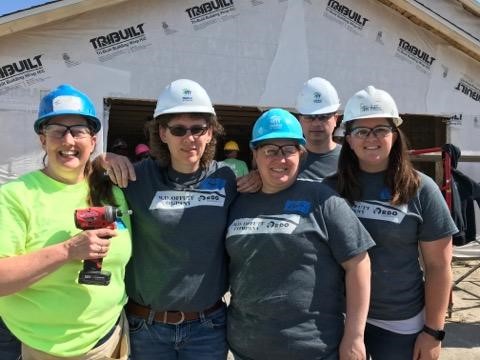 "While my contributions seemed small and minor, I couldn't help but feel great about my time spent volunteering," he said. "Knowing that my work progressed the overall project and that it was one step closer to a finished home for a family in need was a very rewarding experience."
Jordan's sentiment was mirrored by Karla Bitz, Accounts Payable Processor, who signed up for the build with a group of co-workers.
"I wanted to take part because it was a way I could get out and help people in the community," she said. "This was also a one-time thing for the community, and I wanted to be a part of this huge event."

Karla's group was tasked with putting up sheetrock in a house's bathroom, which she says was a learning experience for a few members of the group but an enjoyable time overall.
"We were given instructions by the guy who was in charge and off we went," she said. "Within a few hours and lots of measuring and cutting of the sheetrock, we had the bathroom complete."

After spending a day setting up scaffolding at the worksite early on, Jean was back on-site when the Mohamoud family, the recipients of the house, received the keys. Between hugs and repeated offers of thanks, their gratitude was beyond measure. And both recipients and the volunteers and sponsors who came together to help them were greatly impacted by the Blitz Build.
"Overall, it was a very rewarding and great experience," Karla said. "I am glad to work for a company that gives us the opportunity to volunteer for these types of events."
--------