John Deere recognized three RDO Equipment Co. team members as experts in their field through this year's Service Technician of the Year program.
Awards were named for each of John Deere's 11 divisions and 31 territories. Hector Rubio was named a Division Champion, while Ken Weigel and Mike Callahan were named Territory Champions.
All three team members were nominated by store leaders because they make a difference for RDO customers, team members and their communities.
The recently established award program is open to John Deere equipment dealers across the United States and Canada. Eligibility for nomination includes a set of minimum training requirements, but most importantly, Deere sought nominees who are mentors, regularly go above and beyond for their customers and have a strong community presence.
Get to know Ken, Mike and Hector, three team members proudly representing RDO and providing a world class experience.
Hector Rubio – Lead Technician, Yuma, AZ – Division Champion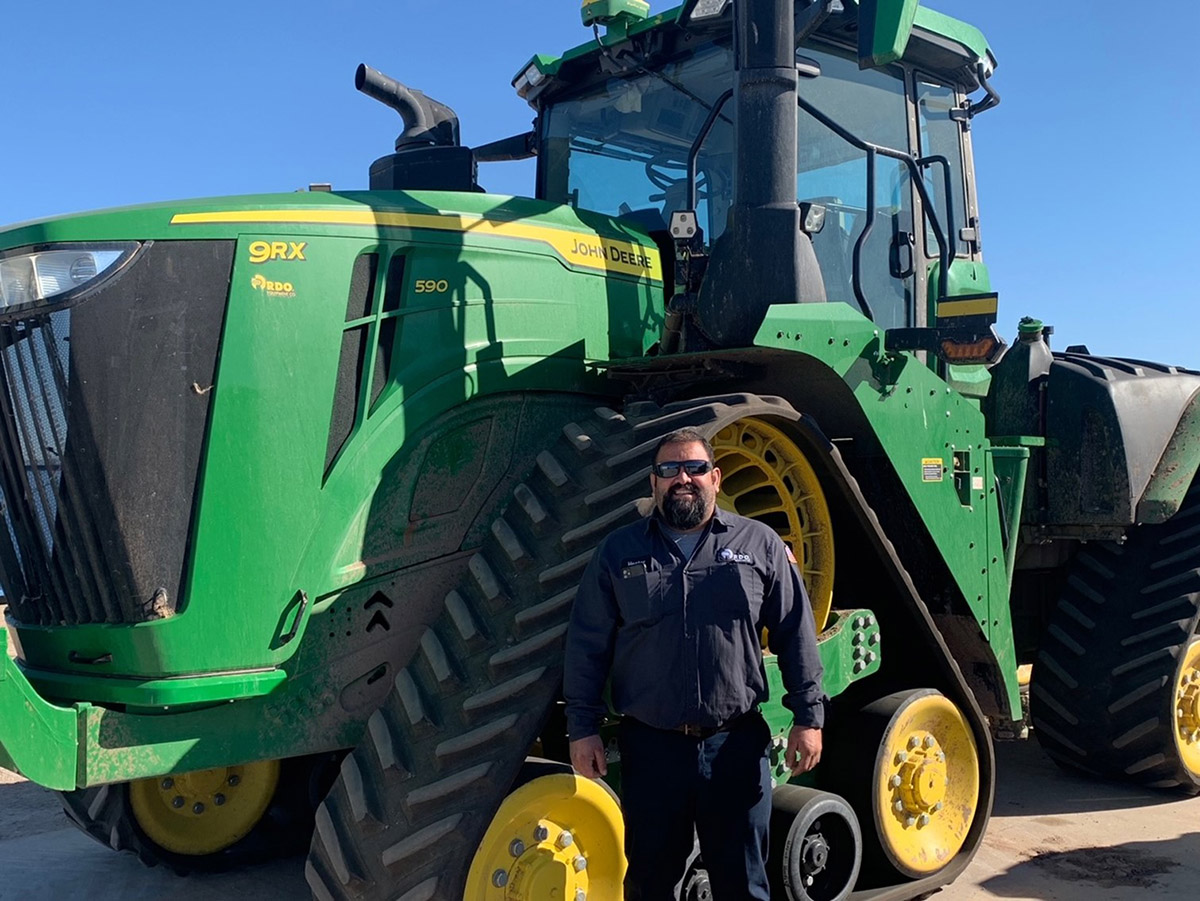 Hector is one of 11 Service Technicians named John Deere Division Champion.
A pillar of the Yuma team, Hector is known by his teammates for being accessible, reliable, and someone who has earned the role of a trusted advisor on matters both technical and personal. He believes in sharing his knowledge to train and develop the team to better serve customers and the community.
"I like helping people, that's the biggest part," Hector said of being a Service Technician. "I feel rewarded when the job is complete and I see the customer is satisfied with what I have done. The excitement of trying to figure out issues and then getting them fixed never gets old to me."
Yuma Store Manager Jaimey Polk says Hector is someone who does and provides for the team much more than a job title could ever describe.
"I trust his judgment on all matters relating to the repair and upkeep of equipment, as well as the development of our technicians," said Store Manager Jaimey Polk. "He provides me the insight I lack when trying to figure out which way our team needs to be focused, while improving their skills and abilities to better support our customers."
RDO customers also added their voices in support of Hector's bid for Service Technician of the Year:
"Hector's time in the ag industry and vast knowledge of both construction and ag equipment allows him to train both myself and my team to make sure we minimize downtime. He treats everyone with respect and always is willing to answer any questions that the team has." – Luke Laster, Harrison Farms
"Hector is exceptionally good at explaining the why behind the issue and is a great teacher. His humbleness and respect towards customers make my team and I feel like we are part of the RDO family." – Israel Munoz, Barkley Company of Arizona
"Hector is honest and always a straight shooter with his diagnostics. He is someone I can always count on. He is a highly intelligent technician and has always found a way to take care of my equipment issues. Hector understands the value of keeping my equipment running." – Miguel Murrieta, Nature Fresh Farms
Ken Weigel – Field Service Technician, Dickinson, ND – Territory Champion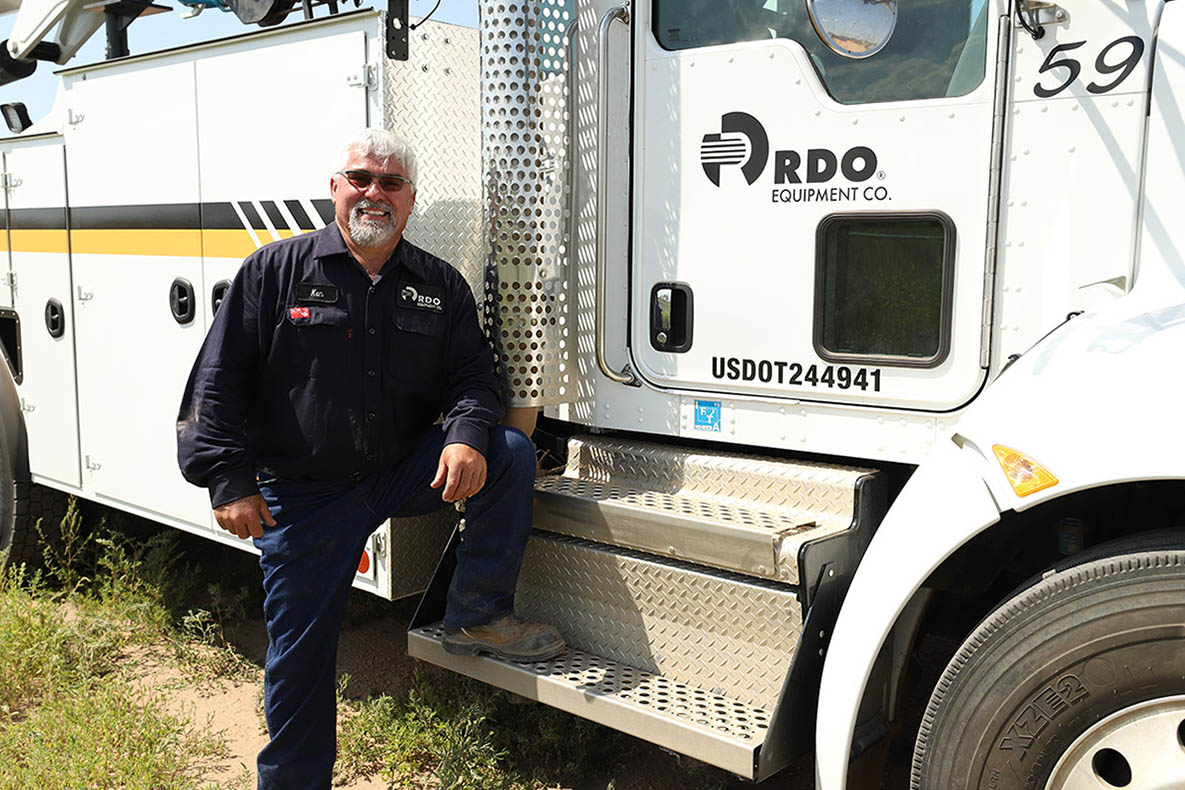 Ken is described by his team as a hard-working team player who is always looking out for his customers. Any time he looks at a machine, he is doing everything he can to help prevent downtime, and customers show their appreciation for his concern.
"One of the most important things I have learned is when a customer buys a piece of equipment, they are also buying the service for their equipment," Ken said. "One must provide amazing service in order to keep that customer, so providing amazing service has always been my goal."
Ken is a trusted mentor for everyone in the store. Younger technicians learn from his expertise, parts team members rely on his advice for getting customers the parts they need. Sales team members rely on his knowledge of machines and customer feedback about how those machines perform on jobsites.
"Ken's attitude is what makes him stand out. He is always there for anyone who needs him," said Field Service Operations Manager Greg Wiest. "The bonds he has created with our customers is amazing. He has all the tools in a great customer experience: machine knowledge and experience, diagnostic skills, customer communication, machine inspections, follow-up after the machine is repaired. You name it and Ken's doing it right."
Ken is a regular volunteer at the annual carnival hosted by the high school in his community. He's also well-known at area fundraisers and benefits where he uses his passion for helping others to give back to his community.
Mike Callahan – Field Service Technician, Moses Lake, WA – Territory Champion
Mike pairs a positive attitude with a commitment to his work that benefits his customers and teammates every day. He's known as a role model for those around him while always remaining curious and eager to learn.
"When it comes to his level of service, Mike stands out because he always puts the customers first, no matter what time or day," said Service Manager Faith Rorick.
Always willing to answer a question or lend a hand where it's needed, Mike is also devoted to completing jobs as quickly, safely and efficiently as possible. He does it all with a smile on his face, one born of his love for his work.
"I am passionate about what I do," Mike stated. "I enjoy being a technician and making sure customers are taken care of."
Once submitted, nominees are reviewed by committee members made up of John Deere Territory Customer Support Managers and Division Customer Support Managers. Nominations are reviewed with no names, dealerships or other identifying information and the committee members do not review nominations from within their territories or divisions.
Both Territory and Division Champions are to receive custom-designed jackets from John Deere. Division Champions also receive a recognition trophy and are invited to a special event at John Deere World Headquarters in Moline, IL.
Congratulations to RDO Equipment Co. Service Technicians Ken Weigel, Mike Callahan, and Hector Rubio for being among those recognized by John Deere through the company's 2022 Service Technician of the Year program.