2,800 exhibitors. 2,500,000 square feet. 150 education sessions.

It's no surprise to anyone close to the construction industry that 2020 marks another CONEXPO-CON/AGG year. It's also not a secret that CONEXPO is the premier event for the industry and a must-attend show for companies of all sizes.

What's to Come
New equipment? The latest technology? Upgrades to service and support? All are a guarantee to be on display and talked about at CONEXPO.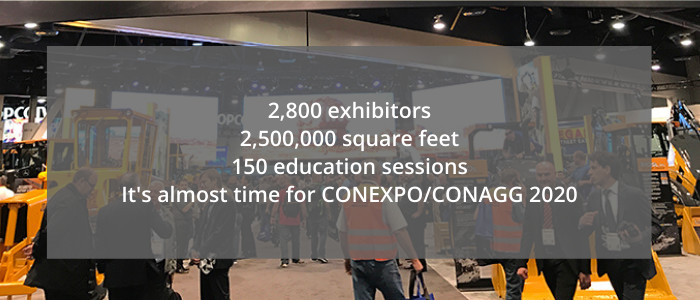 One of the areas we can expect to see more from in 2020 is one where our industry, and leaders like Deere and Topcon, are trending: technology integration. Ahead of the 2017 show, Deere introduced one of its most exciting technology advancements with the SmartGrade dozer, a 700K dozer with GPS technology fully integrated into the machine.

At CONEXPO 2017, Deere featured its Machine Monitoring platform, further shining the spotlight on technology and furthering a commitment to support customers through the connection to JDLink.

While I can't give away Deere's 2020 CONEXPO plans, I can share a little sneak peek.

What's Deere Showing at CONEXPO
The Deere booth is planned to be a 38,000-square foot display of 40 pieces of equipment and many other solutions, including technology. Within the booth will be a dedicated space, a "solutions deck" where we, the RDO team, along with the Deere team can host our customers and have meaningful discussions about business.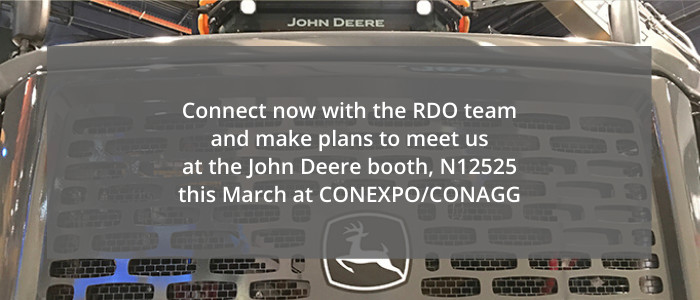 Additionally, Deere recently shared a few more pre-show details that are building more excitement for, what's predicted to be the largest CONEXPO show to date.

Each day will kick off with one live presentation at the Deere booth, which, among the equipment, will feature 10 compact construction machines, plus 10 attachments, compatible with the CCE machines. Also planned are seven world premieres of brand-new equipment across the construction and compact construction equipment segments. Grade control functionality will be highlighted in several machines in the booth and simulation stations will allow attendees to interact with and compete against fellow operators. Finally, two education sessions will feature commentary from Deere experts.

CONEXPO Connects
Speaking of excitement, the RDO team is excited to see you at CONEXPO. We're excited to host, connect, and further build our partnerships with you.

After all, CONEXPO is about connections. It brings attendees from across the United States. For RDO, we hope to see customers from all our regions, from Southwest to Texas to the Midwest. It's also a big draw for companies around the globe and we're looking forward to the chance to connect with our international partners, too.

See You There
Across those 2.5 million square feet of space, amongst the 2,800 exhibitors, and in between educational seminars, I hope you'll make time to visit the RDO team at CONEXPO. We look forward to supporting our manufacturing partners at the show and making it a game-changing event that will pay back big ROI for your business.

Watch for more about what to expect attending CONEXPO and how to have a great experience.


----------
About the Author
As Executive Vice President, Marshall Anderson provides operational leadership for RDO Equipment Co.'s partnership with Vermeer Corporation, as well as the company's Southwest Construction, Southwest RDO Integrated Controls, and MVI divisions. He joined RDO in 2001 and has held several roles in areas including marketing, sales, and general management.
Search used Deere equipment for sale or to see all options, contact your local RDO Equipment Co. store.