John Deere GM20 Series Rear Discharge Grooming Mowers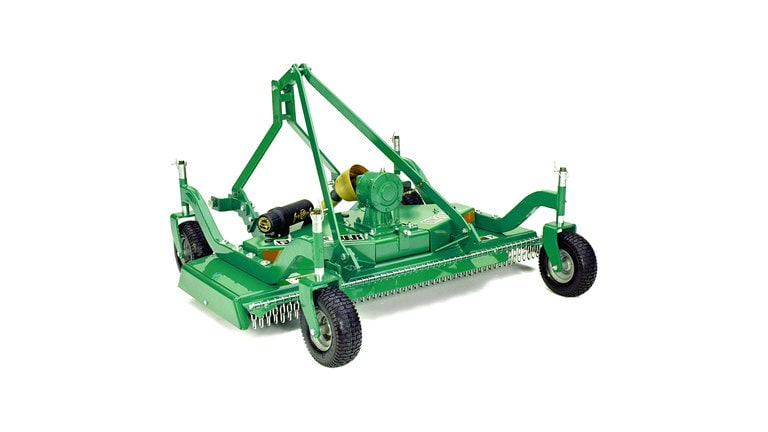 Maintain a clean and level look with efficient Grooming Mowers. Designed to give a smooth cut on lawns, sporting fields and golf courses.
4 - 9 ft. (1.2 - 2.8 m) cutting widths
Single- or dual-belt drive
High blade speed for thorough cutting and uniform distribution
Cat. 1 iMatch compatible with kit
Features
+

Choose from various cutting blades
+

Gearbox with spiral gears
Online Brochures
Dimensions
Overall machine width
188 cm
74 in.
Cutting width
182.9 cm
72 in.
Cutting height
2.5-12.7 cm
1-5 in.
Weight
Operational
272.2 kg
600 lb
Shipping
306.6 kg
676 lb
Tractor requirements
PTO horsepower
14.9-37.3 kW
20-50 hp
PTO rpm
540 rpm
Hitch
| | |
| --- | --- |
| Category | Category 1 |
| iMatch™ compatible | |
Deck
Thickness
8 gauge
4.176 mm
0.1644 in.
Discharge
Rear
Gearbox
Mower deck horsepower
37.3 kW
50 hp
Ratio
1:3.1
Blade
Quantity
Three
Tip speed, average fpm
5,099.91 m/min
16,732 fpm
Spindles
Quantity
ThreeComposition
Cast ironBearing
Shielded ball
Overlap
2.9 cm
1.125 in.
Dimensions
62.2x5.7 cm
24.5x2.25 in.
Composition
Heat treated alloy steel
Caster wheels
Quantity
Four
Solid
Size
25.4x8.1 cm
10x3.2 in.
27.94x10.16 cm
11x4 in.
Yes
Pnuematic
Bearings
Shielded roller
Belts
| | |
| --- | --- |
| Type | 5VX, polyester/cogged |
| Quantity | Two |
| Adjustment | Slotted track |
Warranty
| | |
| --- | --- |
| Machine | 1 year |
| Gearbox | 1 year |