John Deere HX15 Flex-Wing Rotary Cutter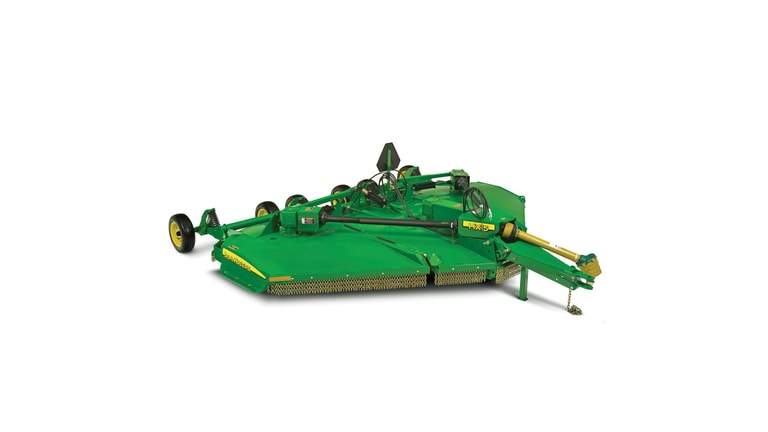 More durable gearboxes
Flex-wing CV driveline
Heavy-duty axle with spring suspension
Safety tow chains for extra support
Features
+

Which rotary cutter is right?
+

Hydraulic height leveling system makes cutter leveling easy and safe
+

Transport lock offers a safe wing-up position
+

Tight turns can be performed
+

Flex-wing constant-velocity (CV) driveline is easy to attach
+

Gearcases and blade holders provide better performance
+

Heavy-duty axle with spring suspension
+

Five-year limited gearbox warranty provided on every John Deere rotary cutter
+

Four larger, more durable gearcases
Online Brochures
Capacity
Cutting width
4,572 mm
180 in.
Cutting height
For clearance over terraces 25 to 406 mm
1 to 16 in.
Cutting capacity (diameter)
76.2 mm
3 in.
Cutting chamber depth
267 mm
10.5 in.
Tractor compatibility
Tractor PTO HP range
41 kW
55 hp
Tractor PTO
540 or 1,000 rpm
Static Vert Drawbar Load Rating
890 kg
1,960 lb
Hitch
Type
Pull-type, with standard self-leveling hitch clevis (Pull-Type has standard 10,000 lb, 4,536 kg, Safety Tow Chain)
Category
Hitch width
For tight turn capability 572 mm
22.5 in.
Jackstand
Hydraulically operated; stays vertical while raising/lowering (optional manual jackstand kit available)
Dimensions
Transport width
At wing wheels 2,800 mm
110 in.
Overall width
4,726 mm
183 in.
Overall length
4,932 mm
194 in.
Deck shape
Easy-clean, dome-shaped top deck
Deck type
Double-decker design; superior strength
Deck thickness
Upper
3 (11) mm
.118 (11) in. Lower
3.5 (10) mm
.138 (10) in.
Shirt thickness
6 mm
0.25 in.
Hinges
Intermittent cast steel segments - greaseable; single 1-in. (2.5-cm) diameter full-length hinge pin
Approx. weight
2,386 kg
5,250 lb
Drivelines
Size
Main
CV ASAE Category 5 tubular telescoping star profiles Connecting
ASAE Category 4 tubular telescoping star profiles
Protection
Main
No-seize, slip-clutch driveline Connecting
No-seize, slip-clutch driveline
Gearcases
Number
4
HP rating
Transfer
186 continuous / 224 peak kW
250 continuous / 300 peak hp Center
112 continuous / 153 peak kW
150 continuous / 205 peak hp Outer
112 continuous / 153 peak kW
150 continuous / 205 peak hp
Blades
Thickness
Single suction 13 mm
0.5 in.
Dual suction-upper 13 mm
Dual suction-lower 13 mm
Width
Single suction 102 mm
4 in.
Dual suction-upper 76.2 mm
3 in.
Dual suction lower 102 mm
Type
Single suction, dual suction
Overlap
152 mm
6 in.
Blade rotation
CW, CCW, CCW
Blade tip speed
540 RPM
Wing 4,751 (285 km/h) m/min
15,586 (177 mph) fpm
Center 4,794 (288 km/h) m/min
15,728 (179 mph) fpm1000 RPM
Wing 4,827 (290 km/hr) m/min
15,837 (180 mph) fpm
Center 4,650 (278 km/h) m/min
15,256 (173 mph) fpm
Material flow system
Smooth, obstruction-free Max Flow cutting chamber for a clean cut and no windrows
Blade holder
Type
Bar-type (Dual suction) or round stump jumper (Single suction) for protection of blades and carrier against obstruction damage
Hydraulics
| | |
| --- | --- |
| Wing lift | Standard, includes spring-assist unfolding |
| Wing flex | 90 up, 22 down degree (angle) |
Wheels
Type
Option 1
4-bolt 21x5.25x9.0 Laminated TiresOption 2
4-bolt 21x7x12 16 PR Severe-Duty Ag Tires
Suspension
Spring suspension (4x8-in.; 10x20-cm coil spring) on all 4 wheels standard
Row width adjustment
Yes
Wing-leveling adjustment
Easy-adjust turnbuckle with bearing