John Deere Z997R Diesel ZTrak™ Zero-Turn Mower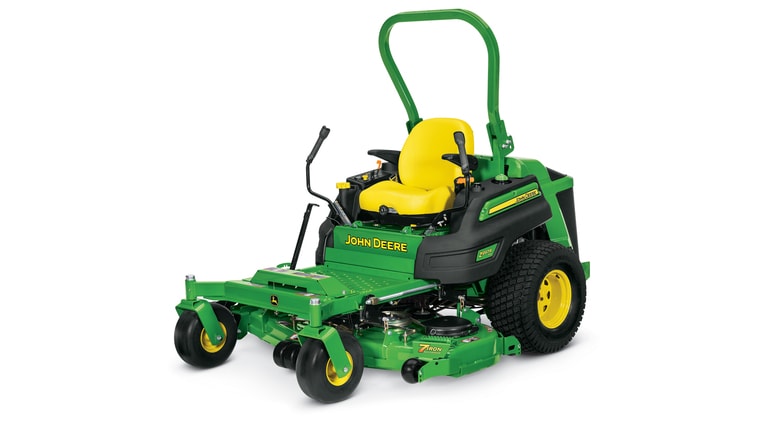 37.4 HP (27.5 kW)
Biodiesel (B20) compatible
Tier 4 compliant
Four different deck options: 60-in side, 72-in side, 60-in MOD and 60-in rear.
Features
+

Heavy-duty frame provides strength and durability
+

Michelin® X® Tweel® Turf airless radial tire technology option for a smoother ride and more uptime
+

Powerful diesel engine for increased performance
+

Quality drive system provides longer life and less maintenance
+

Standard operator comfort and convenience package for ease of use
+

Deluxe comfort seat is fully adjustable and includes ComfortGlide™ fore/aft suspension
+

Mower deck height-of-cut adjustment is easy to use
+

Easily accessed daily service points mean less maintenance time and more working time
+

Four mower deck options for the Z997R give superior performance in every application
Key Specs
Engine Manufacturer/model
3TNV88C
Engine Power
Gross at 3,000 rpm, PS: 37.4 hp
27.5 kW
Fuel tank capacity
12 U.S. gal.
45.4 L
Mower deck Size
Side discharge, Mulch On Demand™, rear discharge, 60 in.
152 cm
Side discharge, 72 in.
183 cm
Blade tip speed
Approximately 18,000 fpm
5,486 m/min
Transmission
Hydrostatic
Speed range
0-11.5 mph
0-18.5 km/h
Drive wheels
26x12-12 square shoulder 4-ply turf, optional 26x12-12 Michelin Tweel™ turf tires
Caster wheels
15x6-6 flat free
Warranty
36 months or 1500 hours, whichever comes first, no hour limitation for the first 24 months.
Engine
Manufacturer/Model
3TNV88C
Power
Gross at 3,000 rpm, PS: 37.4 hp
27.5 kW
Displacement
100.2 cu in.
1,642 cc
Cylinders
Three
Crankcase capacity
3.8 U.S. qt
3.6 L
Oil filter
Full flow, replaceable, spin-on type
Lubrication
Full pressure
Cooling
Liquid
Air cleaner
Pre-cleaner
Yes
Heavy-duty canister, dry type with safety element and air-restriction indicator
Fuel system
Fuel type
Diesel or Biodiesel (up to B20)
Fuel consumption
Fuel tank capacity
12 U.S. gal.
45.4 L
Fuel tank switch/shut-off valve
Yes
Electrical system
| | |
| --- | --- |
| Charge system | 75 amp |
| Battery voltage | 12 V |
| Cold cranking amp | At 18 degrees C, 490 amp |
| Hour meter | Digital multi-function display |
| Operator presence starting system | Standard |
Drivetrain
Transmission
Hydrostatic
Hydraulic pumps
Wheel motors
Parker Ross TG0310, 18.9 cu in.
310 cc
Travel speed
Speed range
0-11.5 mph
0-18.5 km/h
Forward
0-11.5 mph
0-18.5 km/h
Reverse
0-5 mph
0-8 km/h

Speed and direction control
Zero turn
Hydraulic capacity
Tank capacity, 3.2 U.S. gal.
12.1 L
Hydraulic oil cooler
Yes
Filter
Spin-on Type
Buyer's note
| | |
| --- | --- |
| Warranty | 36 months or 1500 hours, whichever comes first, no hour limitation for the first 24 months. |
Tires
| | |
| --- | --- |
| Drive wheels | 26x12-12 square shoulder 4-ply turf, optional 26x12-12 Michelin Tweel turf tires |
| Rear tires | 26x12-12 square shoulder 4-ply turf, optional 26x12-12 Michelin Tweel turf tires |
| Load rating | 4PR |
Brakes
| | |
| --- | --- |
| Dynamic braking | Dual hand controlled levers |
| Park brake | Caliper disc brake |
| Park brake actuation | Hand lever |
PTO
| | |
| --- | --- |
| Type | Hydraulic clutch |
| Drive | Internal wet disk clutch |
Mower decks
Size
Side discharge, Mulch On Demand, rear discharge, 60 in.
152 cm
Side discharge, 72 in.
183 cm
Deck construction
7Iron PRO: One piece stamped steel (except for 60 in. rear discharge)
Deck thickness
7 gauge
0.18 in.
4.6 mm
Discharge
Side-discharge, Mulch On Demand, rear-discharge
Height-of-cut range
Increments
0.25 in.
0.64 cm
1.5-5 in.
3.8-12.7 cm
Cutting width
60, 72 in.
152, 183 cm
Blades
Length
60-in. deck, 21 in.
53.3 cm
72-in. deck, 25 in.
63.5 cm
Thickness
0.25 in.
0.64 cm
Blade tip speed
Approximately 18,000 fpm
5,486 m/min
Number
Three
Wheels
| | |
| --- | --- |
| Caster wheel type | Flat free |
| Caster wheels | 15x6-6 |
| Front anti-scalp rollers | LH, RH, Center |
| Rear anti-scalp rollers | LH, RH, Center |
Dimensions
Length
60-in. side-discharge, 96 in.
244 cm
Width
60-in. side-discharge and Mulch On Demand, 74 in.
188 cm
72-in. deck, 86 in.
218.4 cm
Height
With ROPs up, 85 in.
216 cm
With ROPS down 48 in.
122 cm
Weight
60-in. side-discharge, 1,774 lb
805 kg
60-in. rear-discharge, 1,827 lb
829 kg
72-in. side-discharge, 1,841 lb
835 kg