Construction industry professionals, Buda city officials and Texas contractors joined RDO Equipment Co. leaders and technology experts to open a more than 32,000-square-foot equipment and technology store to meet growing demand.
"Texas has seen incredible change and infrastructure growth over the past decade, and we see even more ahead," says Senior Vice President of Equipment Cory Kosse said. "RDO Equipment Co. and its team members partner with contractors to meet the construction industry demand to build communities through accurate, efficient and consistent service and support."
Located halfway between existing RDO stores in Pflugerville and New Braunfels, Buda was chosen as the prime location to serve customers working in the booming regions between Austin and San Antonio metro areas. The Buda building includes 21 acres of property with several features to serve the needs of area contractors, operators and project managers:
Innovative use of natural light to reduce electricity needs
12 service bays, large enough to accommodate all makes and models of equipment
Dedicated undercarriage/track shop with cylinder repair station, which again allows RDO to service all makes of equipment.
And dedicated field service technicians to work on John Deere and Topcon products.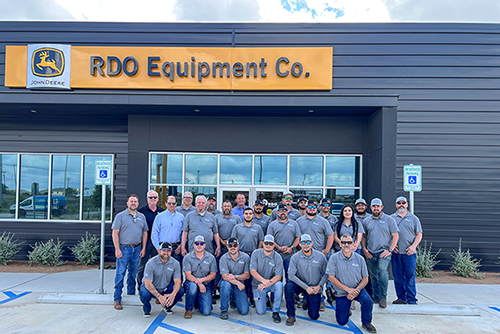 Team members pose outside the new RDO Equipment Co. store in Buda, Texas.
Buda's General Manager Ryan Wagner highlights this location is the largest RDO equipment yard in the state with plenty of room for future expansion. Buda's RDO store allows customers to get the necessary equipment and technology without fighting traffic in expanding metros.
With this new location comes more than 20 new job openings and Access Your Future internship opportunities for students in local trade schools and high schools.
"Contractors who are located outside of metro Austin and San Antonio can rely on our new Buda location to handle all of their equipment needs from sales, rental, parts, and service," Wagner says.
Buda's opening follows several other developments to serve Texas' booming construction industry:
RDO is the only intelligent Paving Dealer with a direct dealer status for all eight stores in the state
RDO has expanded its technology team to provide dedicated support for customers in Texas
And as a Topcon Positioning Systems direct dealer for over a year, RDO provides contractors with a fully integrated, single resource for Topcon's machine control, GPS, road scanning and positioning technology.
"Innovations in technology help our customers manage tighter agency specifications, smaller bid margins and an ever-changing workforce," Kosse says.
Miller joined RDO 12 years ago, bringing many years of construction technology experience from previous roles. He became construction technology product manager for Texas in August 2022, a position in which he led the region's fast-growing Integrated Controls team. Kosse says Miller's promotion to general manager sets the stage to continue building the Integrated Controls team and serving the growing customer appetite for technology.
"We've seen tremendous growth in this sector in just the last few months, and we're projecting that trend to continue in the coming years," Kosse said. "Mike will look to further expand the team with fully-fledged sales, rental and aftermarket functions dedicated to Integrated Controls and keep pace with the demand in the region."
Miller recently announced the latest addition to his team naming Jake Downey as regional sales manager to help guide customers to onboard technology to build accurate and efficient infrastructure with highway speed road scans, GPS positioning systems, machine control and intuitive digital displays.
The technology team in Texas is an extension of RDO Integrated Controls (RDOIC), a technology support provider through unparalleled product support and word class training. For nearly 15 years, the RDOIC has created the RDO technology team and a support network across all eight states where team members partner with partner contractors, roadbuilders, operators, designers and more. Founded in 2009, this team of more than 100 leading construction technology experts is one of North America's leading construction technology companies.
Contractors in Buda and its surrounding areas can now leverage RDO's equipment and technology experts, parts, services and support.
For more information about RDO Equipment Co. or to contact our construction equipment or technology experts, contact communications@rdoffutt.com.