As a property and landowner or caretaker, the tools you rely on can change with each project, task or season. John Deere lawn tractors and riding mowers have become versatile, effective machines with the proper attachments to get the job done.
Discover the attachments to add to your fleet to efficiently complete lawncare tasks for your property.
1. Mowing your yard and prepping the soil for plants.
Depending on the property's location, size and climate, owners may need to consider different attachments to upgrade their mower's capabilities. Here is a brief list of mower attachments to improve your lawn and decrease the time it takes to tend a vibrant outdoor oasis.
Aerators use coring process to penetrate the lawn and remove soil clogs. These openings let water, seed and nutrients reach the lawn's root system.
Dethatchers reduce excessive thatch buildup that can damage a lawn's health. Removing this tightly intermingled layer of living and dead stems, leaves, and roots, accumulating between the layer of actively growing grass, allows water and nutrients to get deeper in your soil, resulting in a healthier lawn.
Landscape rake attachments help owners prepare seedbeds, rake rocks, and other site development tasks.
Lawn sweepers pick up leaves, twigs, grass clippings and other debris to efficiently remove unwanted items, so owners do not have to pick up things individually.
Also, owners may consider upgrading their bagging system attachment to dispose of lawn clippings, plants, tree debris and more.
2. Manage weed growth and soil health.
A good-looking lawn starts with a healthy lawn. Many John Deere riding mower attachments help owners address specific tasks like target spraying to remove weeds without damaging soil.
MulchControl™ Kits allow you to mulch while you mow, decreasing overall yard work time. This attachment usually turns discarded grass clippings into food for the soil and protection from the sun.
Moldboard plow, harrow and cultivator attachments are only available for John Deere's X7000 Select Series, a larger lawn tractor. These attachments help owners till and break up lumps of earth and clay.
Pull-type spin spreaders are rear attachments used year-round to spread seed, fertilizer, ice melt and salt.
Sprayer attachments offer broadcast capabilities to cover larger areas. Most sprayer attachments come with a targeted spraying option for spot spraying, which is helpful in smaller areas, like a garden.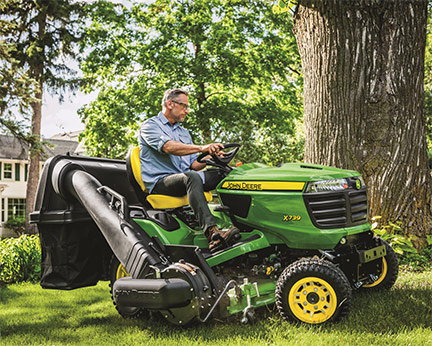 3. Moving dirt to change the landscape.
Many owners need the ability to build different landscaping through earth-moving or adding lawn ornaments. And John Deere riding lawn tractors can act like their bigger compact utility tractor brothers. These riding lawn tractors can be paired with attachments to turn a simple riding mower into a productive tool for several lawn and garden projects.
Front blade attachments quickly push loose materials like gravel around the lawn.
A tractor shovel takes the back-breaking labor out of jobs like moving mulch, spreading gravel, ground grading and more,
Utility carts added to a riding mower transform the mower into a productive hauling machine to move various materials.
Build your perfect complete lawn tractor or mower package with the RDO Equipment Builder.
4. Removing snow and other winter tasks.
With different attachments for winter, lawn tractor owners can transform their riding lawn mowers into efficient snow-removal machines for their driveways and sidewalks.
Angling kits, a precise machine control tool, allow front-mounted implements to be set a desired degree to the right or left to remove snow and ice efficiently.
Rubber blade squeegee kits, called "driveway savers," prevent the blade from scratching or digging into the driveway surface.
Snowblowers, a popular attachment, use a high-speed rotor to remove snow efficiently and consistently from driveways and sidewalks. Some owners even add a heavy-duty skid shoe, which leaves behind a small film of snow to protect your concrete and snow blower.
Weather enclosures shield the owner from the elements when using the riding mower or lawn tractor during cold temperatures.
Whether you're a small or large property owner, a veteran do-it-yourselfer or new to the weekend warrior life, all riding lawn mower owners can do more than mow the lawn when they add the right attachment for the task at hand.