RDO team members demonstrate their commitment to the communities where they work and live in many creative ways. One way is participating in Offutt Family Foundation's Community Builder grant program. For nearly a decade, this unique initiative has recognized grant proposals submitted by RDO team members that demonstrate the potential to move a community forward in meaningful ways in response to the community's needs.
This year's Community Builder had RDO team members nominate charities within three vital categories:
Education: Organizations providing children and adolescents opportunities to reach their full potential
Healthcare: Organizations improving health outcomes through innovative solutions
Community Development: Organizations strengthen local communities by providing access to resources that allow them to thrive.
Altogether, $345,500 was awarded to 48 recipients across RDO's footprint. In addition to funding from Offutt Family Foundation, R.D. Offutt Company, the parent company of RDO Equipment Co., partnered with the foundation to support each award as a tribute to nominating team members and their passion for causes within their communities.
Numerous RDO team members stepped up across the entire company footprint, from Northern California to eastern Washington, to the Upper Midwest and the heart of Texas, nominating charities doing important work in their communities.
Tom Espel, Offutt Family Foundation Executive Director, says RDO team members showed dedication to their communities through their rich and diverse applications.
"The causes team members advocated for, and the stories they shared were nothing less than awe-inspiring," he said. "It was an incredible experience to learn so many ways RDO team members are giving back to their communities."
Here are a few examples of this year's Community Builder grant recipients and the RDO team members who nominated them.
Big Brother Big Sister of Central Minnesota — Sauk Rapids, Minn.
FISH of Vancouver — Vancouver, Wash.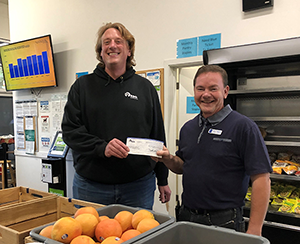 Casey Freshwater, a Service Technician from RDO Equipment Co. in Portland, Oregon, nominated FISH of Vancouver after witnessing the need for nutritious food while using his RDO volunteer hours to help at FISH in downtown Portland.
"As a FISH volunteer for over two years, I saw my community's tremendous need for nutritious food and resources, especially during COVID-19. I use my volunteer hours from RDO to help at the food bank and witness its impact on the community," said Freshwater.
Helping Hands —Park Rapids, Minn.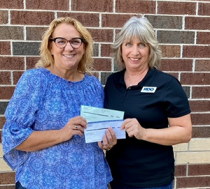 The Helping Hands program in the Park Rapids Schools will help many more students after being nominated for and receiving a Community Builder grant, thanks to Patty Stephens, RDO hospitality manager.
"As a former educator, I have seen the great needs that our students have beyond what they can get in a classroom, and the support offered by groups such as Helping Hands is invaluable," she said. "A kid shouldn't have to stay in at recess because they don't have a warm coat or be unable to do their algebra because they don't have the right calculator. Helping Hands fills in those gaps."
Hmong Nurses Association (HNA) — Fowler, Calif.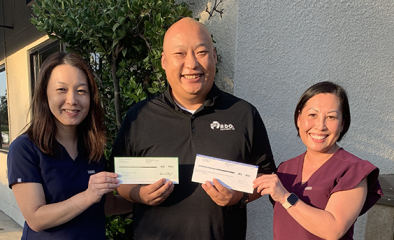 Nhia Vue, RDO Equipment Co.'s store manager in Fowler, Calif., experienced Hmong nurses' kindness when his older brother Kong Meng was diagnosed with cancer at 16. His parents spoke very little English, but the Hmong nurses at Valley Children's Hospital helped when translators weren't available. Through witnessing this experience, Vue said he understands nurses' vital role, especially with those who have additional cultural or language backgrounds. Vue says HNA ensures future Hmong nurses through scholarships and the collaboration of Hmong nurses to promote and sustain a healthy community.
See a complete list of Community Builder Grant recipients and the team members who nominated them.
| | | |
| --- | --- | --- |
| Organization | Team member | Location |
| American Diabetes Association - North Dakota | Jeanine Larson | Fargo, N.D. |
| Bertha-Hewitt Sports Boosters | Jonathan Robbins | Wadena, Minn. |
| Big Brothers Big Sisters of Central Minnesota | David Henkel | Sauk Rapids, Minn. |
| Big Sky Development | John Hurd | Billings, Mont. |
| Boys & Girls Club of the Columbia Basin | Niki Bickle | Moses Lake, Wash. |
| Brooten Community Foundation | Elizabeth Martinez | Brooten, Minn. |
| Century School PTA – Helping Hands | Patricia Stephens | Park Rapids, Minn. |
| Coconino Trail Riders | Tyler Klein | Flagstaff, Ariz. |
| Columbia Basin Foundation | Kent Smith | Coulee City, Wash. |
| Columbia Industries | Jarrod Bailey | Kennewick, Wash. |
| Connell Heritage Foundation / North Franklin Heritage Museum | Joel Slaybaugh | Othello, Wash. |
| Construction Zone | Ed Gnuse | Bozeman, Mont. |
| Evan Heroes | Austin Meurin | San Antonio, Texas |
| Feeding our Communities Partner | Donna Birr | North Mankato, Minn. |
| FISH of Vancouver | Casey Freshwater | Vancouver, Wash |
| Friends of Wadena County Youth | Charlie Wachlin | Wadena, Minn. |
| Hazen Public Library/City of Hazen | Rachel Froelich | Hazen, N.D. |
| Heartland Lakes Development Commission | Luke Warmbold | Park, Rapids, Minn. |
| High Hopes | Jan Moy | Ada, Minn. |
| Hitterdal Fire Department | Jacob Steichen | Moorhead, Minn. |
| Hmong Nurses Association, Fresno Chapter (HNA, Fresno Chapter) | Nhia Vue | Fowler, Calif. |
| Hope Blooms | Erica Johnsrud | Fargo, N.D. |
| Hub Area Habitat for Humanity | Jason Peterson | Aberdeen, S.D. |
| Hubbard County DAC | Debra Bannerman | Park Rapids, Minn. |
| Joel Birr Memorial Foundation | Jeff Dirkes | Dayton, Minn. |
| Maggie Jean Foundation | Todd Dirckx | Marshall, Minn. |
| McLean Family Resource Center | Jon Unterseher | Washburn, N.D. |
| MN Ag in the Classroom, Inc. Foundation | Jen Maleitzke | Fargo, N.D. |
| Noah Bates Memorial Foundation | Glen Bates | Irving, Texas |
| Northland Cares | Carl Lind | Prescott, Ariz. |
| Patrol Base Aabbate | Matthew Driver | Missoula, Mont. |
| RaeRae's Light | Jamie Wilson | Flagstaff, Ariz. |
| Red River Valley Fair Foundation | Travis Sjolin | Fargo, N.D. |
| River Keepers | Courtney Neitzke | Fargo, N.D. |
| Rochester Active Sports Club | Kurt Schaff | Rochester, Minn. |
| Ronald McDonald House Charities Midwest | MN, WI, IA | Jill Kaufman | Rochester, Minn. |
| San Luis Obispo County Agricultural Education Committee | Jason Snyder | Salinas, Calif. |
| Sleep in Heavenly Peace - SD Aberdeen | Mark Schaffner | Aberdeen, S.D. |
| Tri-Cities Prep | Ian Carey | Pasco, Wash. |
| Trollwood Performing Arts School | Ted Horan | Fargo, N.D. |
| Tumbleweed Runaway Program, Inc. | Sonjia Munnerlyn | Billings, |
| UMOM | Judy Butler | Phoenix, Ariz. |
| United Way of Otter Tail and Wadena Counties | Ryan Jacobson | Fargo, N.D. |
| University of Minnesota Foundation, Lincoln Co Fund #23128 | Justin Korman | Marshall, Minn. |
| Valley Fire District | Megan Lacey | Missoula, Mont. |
| Washburn Volunteer Fire Department | Jewel Spitzer | Washburn, N.D. |
| Watson Children's Center | Jamie Doty | Missoula, Mont. |
| West Valley Volunteer Fire and Rescue | Sean Suho | Kalispell, Mont. |
Through the Community Builder program, Offutt Family Foundation has awarded more than $1.4 million in grants since 2015. The program builds on the spirit of community involvement embedded in RDO culture and embodied by team members. See RDO team members delivering Community Builder Grants recipients below.

Jeanine Larson and RDO team members deliver grant to the American Diabetes Association N.D.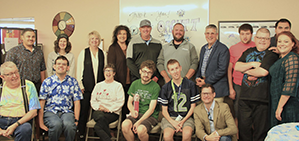 Jarrod Bailey delivers grant to Columbia Industries.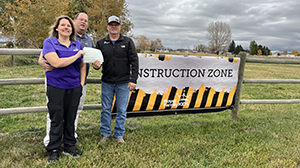 Ed Gnuse delivers grant to Construction Zone.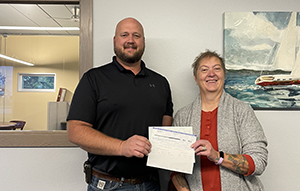 Luke Warmbold delivers grant to Heartland Lakes Development Commission.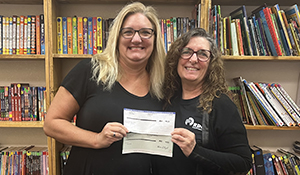 Jan Moy delivers grant to High Hopes.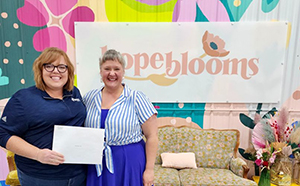 Erica Johnsrud delivers grant to Hope Blooms.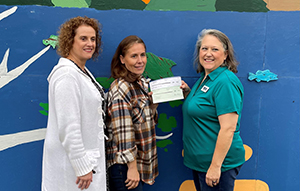 Debra Bannerman delivers grant to Hubbard County Developmental Achievement Center.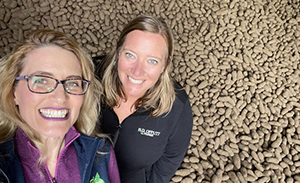 Jen Maleitzke delivers grant to Minnesota Ag in the Classroom Foundation.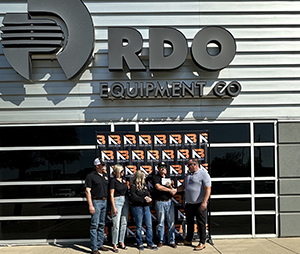 Glen Bates delivers grant to Noah Bates Foundation.
About the Offutt Family Foundation
Established in 2008, Offutt Family Foundation acts in alignment with the deeply held values of the Offutt family, seeking to engage partners in sustaining or improving quality of life with a concentration on community development, Christian entities and educational initiatives in North Dakota and northwest Minnesota.