RDO Equipment Co. today announces its definitive agreement to acquire Honnen Equipment's eight John Deere construction equipment locations in Wyoming, Utah and Idaho. The acquisition, expected to close mid-December, will expand the company's footprint to 12 states and establish a presence in Idaho, Utah and Wyoming to serve contractors building in the Mountain region.
"We are excited to welcome Honnen's team members and customers to the RDO family while expanding our John Deere and Wirtgen construction footprint," said RDO Equipment Co. President Chris Cooper. "RDO and Honnen share long histories of family ownership, customer focus and values-driven business philosophies with leading reputations in our respective markets. We are confident that our shared priorities will greatly contribute to our ability to blend best practices from each organization successfully."
Founded in 1963 by Pete Honnen as Pete Honnen Equipment, today's Honnen Equipment grew from a single store in Commerce City, Colorado, to three Colorado dealerships in the first nine years. From there, the company expanded to include stores in Wyoming. In 2009, Honnen acquired Scott Machinery Co. in Utah and southeast Idaho. As the company's territory grew, so did its product lines. Beyond John Deere Construction and Forestry equipment, Honnen has added Hamm, Kleemann, Vogele and WIRTGEN equipment lines.
"The Honnen team has built longstanding, trusted relationships with customers over the last six decades. We now have the duty to build on that foundation, committing to those team members to grow the business, strengthen resources and relationships, and ultimately help customers continue to succeed," said RDO Equipment Co. Executive Vice President Marshall Anderson, who will lead the new additions to RDO's portfolio.
"I believe that RDO Equipment Co. is the right company to lead the Honnen legacy into the future," said Mark Honnen, president of Honnen Equipment. "Not only do we share similar histories, but we also share a similar vision for the future of construction equipment that will be greatly driven by advances in technology. RDO has made significant investments in technology and is well-known as a leader in the industry. Most importantly, they're a company that values and respects the relationships we have with customers and the role we play in supporting them. This is the right company to lead Honnen into the future."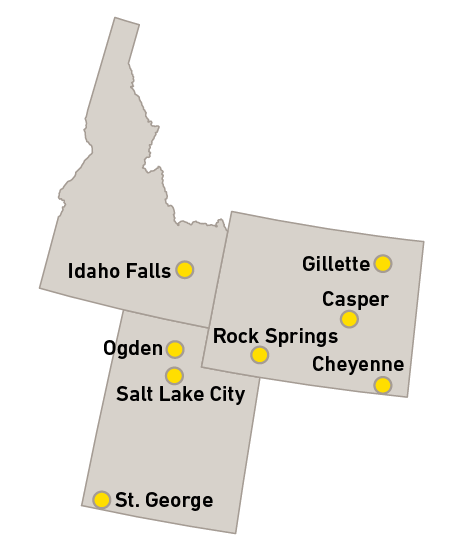 More than 150 Honnen team members will transition to RDO Equipment Co. across cities in Gillette, Casper, Cheyenne, Rock Springs in Wyoming, Salt Lake City, St. George, Ogden in Utah and Idaho Falls in Idaho.
"We learned a long time ago that one of the most important things we can do as a business is invest in our people and our culture," Cooper said. "That's exactly what we're doing here, and we're looking forward to all the ways the Honnen team will enrich RDO culture through their depth of knowledge and experience."