They dig dirt. They move material. They may even have the latest technology to work smarter and faster.

They're rental machines. That's right, a company doesn't need to own every piece of equipment in its fleet to get the best machines; in fact, there are several reasons renting equipment may be the better choice for companies. In addition to the benefits, virtually every type of equipment can be rented, from agriculture to construction equipment and even specialized, niche machines.

These top 10 reasons to rent from a reputable dealer like RDO Equipment Co. are great for every company to keep in mind, no matter the economic climate. Expand the infographic by clicking below or read on for detailed advantages of choosing rental equipment.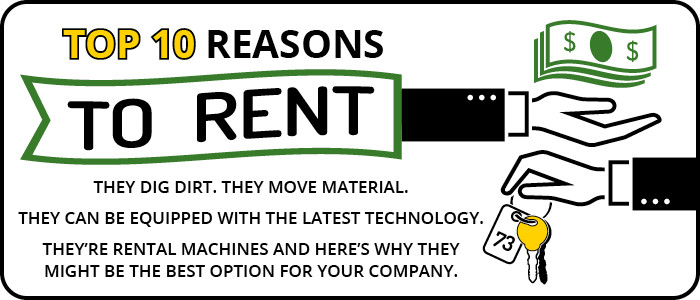 1. Full Service Support
When renting equipment, it's about more than the machine. Reliable parts available and service are musts, and both should be part of the full rental support package.

Reputable rental outlets, including trusted equipment dealerships, keep a healthy stock of parts inventory to ensure a supply of crucial parts on-hand that can be delivered or picked up quickly when needed. Service is second-to-none as well, with certified technicians on staff to maintain and repair machines.

2. Training
Whether a new machine for the company or a new operator on the team, there's often a learning curve that comes with equipment. Work with a rental company that offers equipment training to ensure both productive and safe operation.

Similar to companies that provide training with new equipment purchases, top rental companies will provide a similar process, training on everything from basic maintenance to proper operation.

3. No Storage
With owning equipment comes storing equipment. While companies strive to keep machines productive year-round, some equipment, especially niche or specialty machines, don't always have use on every jobsite. Once they're done on a project, they sit idle and need to be stored until they can go to work again.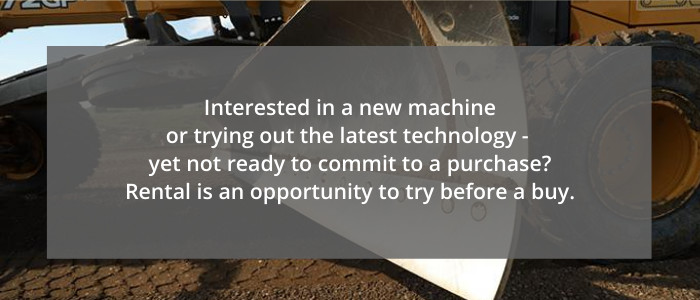 Renting means no storage worries or costs. Rent the machine for the duration of the job, then return when it's done.

4. Try Before Buy
Interested in a new machine but not sure about committing to a purchase? Want to try a new machine to see if it's a good choice for the fleet? Rental allows the opportunity to test out one or several models to find the right fit.

One advantage of working with RDO is the option of rent-to-purchase. A customer may choose to rent and be done with it, or, if there's a good chance there will be interest in buying the machine, rent-to-purchase agreements allow terms and pricing to be set up front, giving the customer equity in the machine and more buying confidence.
5. No Capital Investment Needed
Buying a piece of equipment is a capital expense. Especially if cash flow is tight, jobs are uncertain, or any number of reasons that a purchase might be too risky, rental may be the better option.

Renting equipment doesn't require the same large, upfront investment as buying.

6. No Depreciation, Increased Buying Power
Rental means no worries about annual depreciation associated with owning, yet still the opportunity to work with the latest, up-to-date equipment.

Furthermore, reducing balance sheet liabilities will offer a better asset-to-liability ratio for the business.

Watch to learn more about strategic advantages of rental and options with independent rental companies:


7. Up-To-Date Equipment
Speaking of up-to-date equipment, it's one of the best ways to be as efficient as possible and succeed in today's competitive environment. However, brand-new equipment comes with the brand-new price tag, depreciation concerns, and other potential drawbacks, especially for those who can't afford it.

It's a common misconception that rental machines are the oldest, most beat up machines a company has to offer. However, there are several companies that offer late-model, low-hour, reliable machines to rent. Bonus, some even offer them with the latest technology or ability to add technology, making rental an opportunity to gain that same competitive advantage.

8. Equipment Disposal
Many companies don't have the time or means to efficiently manage older equipment. Should a company invest in a machine to get more life out of it or is it time to sell? And, when selling, is it best for the company to move the machine on its own or easier to send it to auction?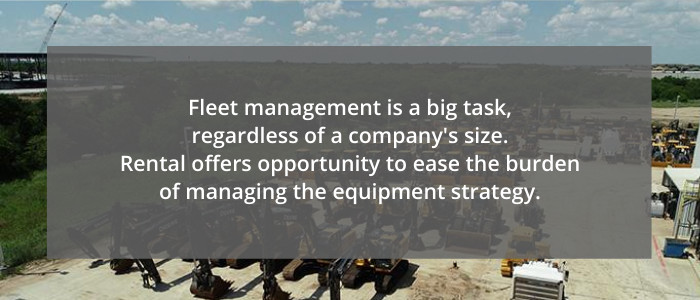 Renting takes away this task, one that may not seem too big but requires a lot of strategy and planning to do it well.

9. Skip the Transport
When it's time to have a machine delivered to the jobsite, many companies aren't equipped to move heavy equipment. This adds another step and cost.

Renting from a reputable dealer means local equipment pick-up and delivery from professional drivers – one less thing to worry about.

10. Flexibility
Many companies today need to consider taking on specialty projects or expanding outside their normal scope – however, that often means adding machines that aren't currently in the fleet.

With the open-ended opportunity to rent any machine, any time, companies can take on more projects, specialized work, and jobs that require a wider variety of equipment – all without having to buy more machines.

There are always reasons to rent equipment. Working with RDO Equipment Co. makes rental easy and hassle-free, while offering reliable, quality equipment and the service and support to back it up.

--

About The Author
Tory Williams is a Regional Sales Manager with RDO Equipment Co. in Chandler, AZ.
Learn how to become Rent Ready with RDO or request a rental quote. Find out more about rental options at your local RDO Equipment Co. store.