Members of the all-volunteer Christine Fire and Rescue Department in Christine, ND, recently welcomed a fully customized John Deere Gator to their rescue fleet this spring. In the area it will serve, it's an emergency response vehicle in a category of its own, and it's the unique result of an RDO team member's close connection to industry and community.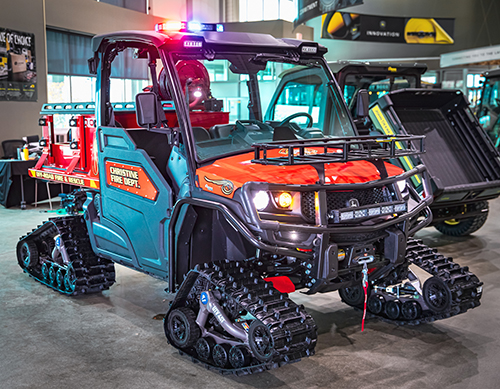 Painted firetruck red and equipped with a 70-gallon water tank and a bed designed to hold a rescue basket or Stokes basket, the customized XUV835M John Deere Gator is a multifunction emergency response vehicle.
Carson Laney, Product Specialist with RDO Equipment Co. in Moorhead, MN, has been with the Christine Community Fire District since 2015. He's one of 10 active members in the 100% volunteer organization and is among the five trained as emergency medical responders. The idea for the Gator developed as the members of the department discussed ways to improve.
"We spent some time collaborating as a department to identify gaps in our ability to serve our community and surrounding areas," Carson said. "We have two rivers that border our district, so we felt the need to up our ability for water rescue, off-road recuse, and off-road fire suppression."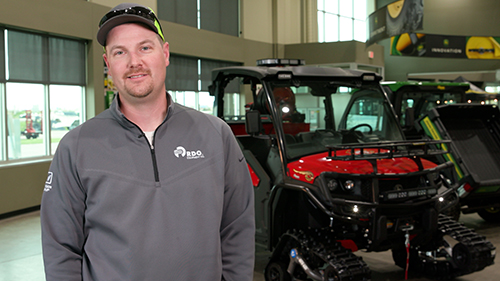 Carson Laney, Product Specialist with RDO Equipment Co. stands in front of the Fire Gator at the RDO store in Moorhead, Minnesota.
With the problems identified, Carson tapped his teammates at RDO to help find a solution. He reached out to Consumer Products Manager Blake Mathues and Account Manager Alex Mitchell. They leveraged the partnership between John Deere and International Automated Systems (IAS), which offers customers a custom line of utility vehicles designed specifically for government agencies and first responders.
From there, Carson worked directly with IAS, leaning into his insights from his seven years of service with Christine Fire and Rescue to customize the Gator to best outfit the department. RDO team members Phil Heinrichs and Adam Meister assisted with the machine setup and installation of custom tracks, mirrors, and a storage rack, and department-specific lettering and graphics were contributed by Graphic Creations Signs & Designs out of Sabin, MN.
Watch the Fire Gator in action with volunteer firefighters and RDO team members.
Most importantly, the Gator was an opportunity for Carson to combine the skills and connections from his day job with his passion for serving his community.
Life would lead him to the small, rural town of Christine, roughly 20 miles south of Fargo-Moorhead. As he set down roots there, in the same community that his mother and grandparents called home, he knew he had found a good fit.
Since then, Carson has worked to carefully balance his responsibilities serving RDO customers and his volunteer role serving his community. As unpredictable as it can be, he says the environment at RDO is one where he's supported and encouraged.
"The connection with RDO works really well. From my managers and from the company, it's 'do what you have to do.' That support and understanding are critical to volunteer."
And with Christine Fire and Rescue Department covering roughly 40 square miles of its own territory plus providing mutual aid across four counties for seven neighboring departments, there can be a lot of ground to cover when someone needs help. Carson says the Gator will ensure he and his fellow responders can get wherever they need to be, no matter the conditions.
"There was quite a bit of forward thought process that went into this Gator. It's certainly going to be a huge asset to our community, the communities around us, and the people we serve."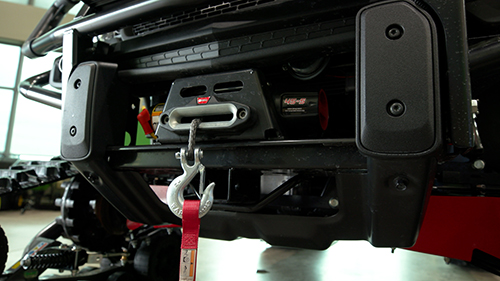 The customized Gator features front and rear winches equipped with synthetic rope. The winches will prove useful for maneuvering the vehicle through challenging terrain and recovering a rescue basket from inaccessible positions.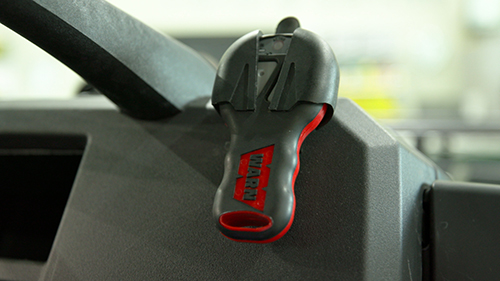 The Gator's winches are operable via wireless remote, shown here, in addition to dashboard controls, offering first responders additional flexibility during off-road rescues and fire responses.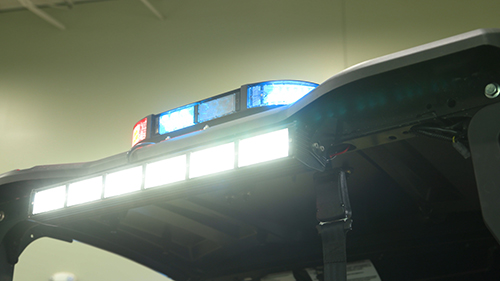 In addition to its emergency flashers, the Gator's front and rear light bars offer first responders ultimate visibility.