Story written for Future Farmer Magazine and first appeared in May/June 2021 issue
On a 70-acre plot, situated on the west side of Interstate 29 and referred to as "Site C" at the Grand Farm, Tony Kramer plants soybeans. "It is a crop that does not grow tall, so it lends itself well to getting into the field and getting up close with it," Tony, an Agronomist for RDO Equipment Co., explains.
The Grand Farm, located south of Fargo, North Dakota, is an effort that aims to capitalize on potential in the agriculture and technology industries. Fresh off the
Cultivate Conference last week where RDO's own Daryl Shelton spoke
about the important relationship RDO has with both innovators and growers, let's look back at RDO's efforts early this summer to get the Grand Farm off to a grand start.
Setting the Stage for Success
When the RDO team was asked to plant a field for other Grand Farm partners to use for testing and learning, Tony initially envisioned planting corn, a much less resilient crop than soybeans and, therefore, better for field trials. However, "knee high by the Fourth of July," echoed in his mind and reminded him 10-foot-tall rows of corn would make the field incredibly difficult for partner companies to access, walk through and get up-close to the areas where they would be testing their equipment innovations and theories.
Related article:
4 ways to get more value out of agriculture equipment and technology
And that accessibility was important, because RDO's role in this first year of the Grand Farm has one key focus: Plant the land to create a learning space for other partners.
Precision Ag Technology in Action
In addition to being an Agronomist, Tony is a Certified Crop Advisor (CCA), holds a Precision Ag Specialty Certification (PASp) and is no stranger to field trials. Even though RDO would not be using the space to conduct any trials of its own, Tony was eager to play a role in the Grand Farm and create a "playground" for companies to test, trial and learn. And using it they are. The planted space at Site C is a test site to everything from small equipment, such as sensors, to larger machines, such as tractors.
Beyond Tony's expertise, RDO's position as a large John Deere dealer means access to the production equipment needed to plant the land. For Site C, Tony used a Deere 8R 410 Tractor and an ExactEmerge planter, the latter was chosen because its speed made it the ideal machine to get the crops planted quickly. The ExactEmerge planter is capable of planting at 10 miles per hour, much faster than a grower would do in a similar situation.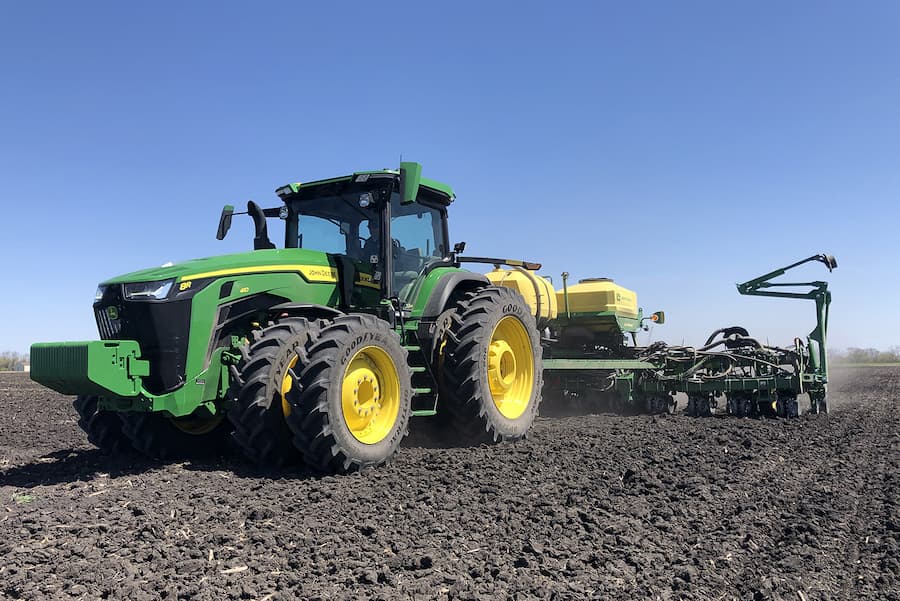 "A grower would normally plant soybeans at a speed of 4, maybe 5 miles per hour as a best practice for optimal placement and yield potential," Tony explained. "In our case, we didn't have that same risk to manage. We know this planter is capable of offering precise speed placement at that high speed."
Another tool the RDO team is bringing to Site C and Grand Farm partners is the John Deere Operations Center, which Tony describes as, "a collaboration space for all the partners." The Operations Center is a farm management information software, offering capabilities for multiple partners to collaborate on Site C using one set of data. While each partner uses the data differently, reliable and easy access to each other data's is part of what makes the program at Grand Farm unique.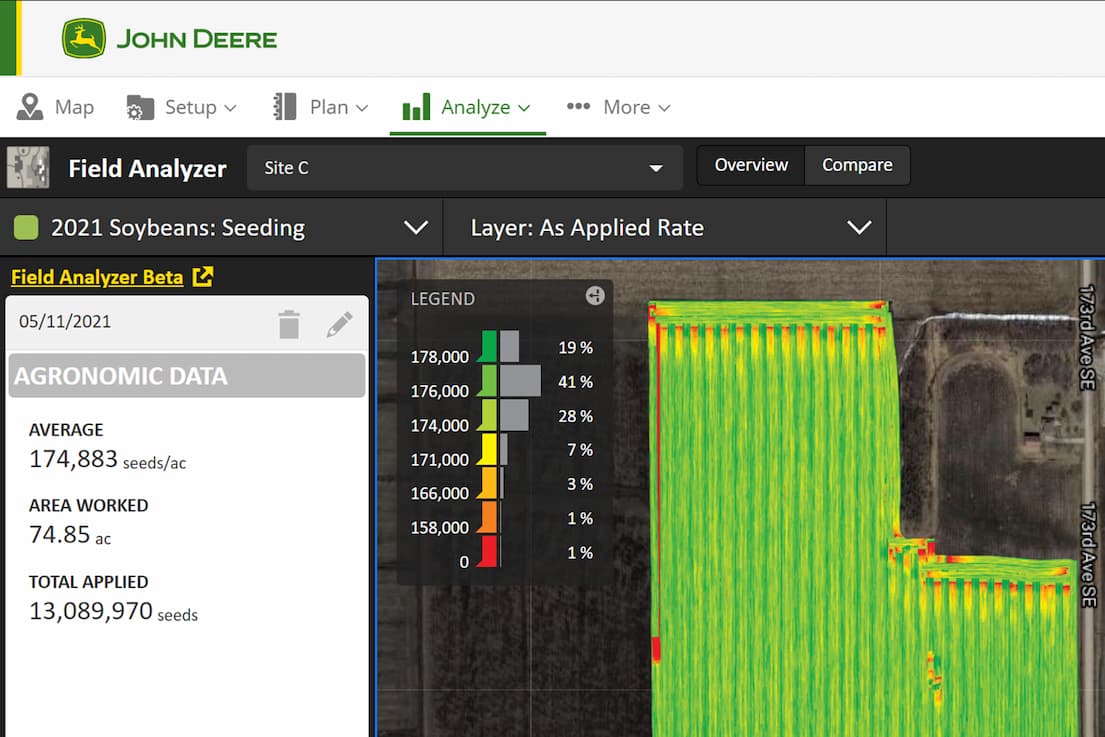 Because each partner uses the data in the John Deere Operations Center differently, Tony offers the following real-life explanation to illustrate why a cloud-based solution is critical.
"After a grower is done planting, he or she can share select data with trusted advisors, like their agronomist. Assuming the grower used a map-based prescription, the agronomist would have immediate access to the as-applied planting map to see planting accuracy based on the prescription. The data helps the agronomist set expectations when going out to do stand counts after emergence. They know what to expect; for example, they need to base the stand count in Zone A on 32,000 seeds per acre, while Zone E needs to be based on 28,000 seeds per acre. Having all the data in one place is cleaner for review and analysis, and convenient for reporting and future access."
In addition to the value of readily-available data for all the partners to review, analyze and use for decision-making, Tony points to the convenience the tool offers when multiple collaborators are involved.
"No one is exchanging flash drives, or working with multiple platforms and devices," Tony explains. "It is a cloud-based space for everyone to use. Everyone with credentials can log in on their smartphone, tablet, computer – any device, anytime, anywhere."
Advancements are happening in agriculture every day and Tony is proud that RDO is playing a role in fostering and supporting that innovation.
--
Interested in more about precision agriculture? Check out the RDO Equipment Co.
Agriculture Technology Podcast
, hosted by Tony Kramer, and find out more about everything from equipment to drones to specialty crop care.
Watch the video series
Precision Ag Answers – from RDO Equipment Co. on YouTube
for a mix of quick tips and deep dives into the biggest precision agriculture questions.
See all options for new and used equipment by visiting your
local RDO Equipment Co. store.
.