John Deere recognized five RDO Equipment Co. team members as experts in their field through this year's Service Technician of the Year program.
Award winners were named for each of John Deere's 11 divisions and 31 territories. Jorvardo Nunez was named a Division Champion, while Thomas Goettle, Alan Nichols, Jason Ihly and Tommy Hoheisel were named Territory Champions.
Store leaders nominated all five team members because of the ways they make a difference for RDO customers, team members and in their communities.
The recently established award program is open to John Deere equipment dealers across the United States and Canada. Eligibility for nomination includes a set of minimum training requirements. Still, most importantly, Deere sought nominees who are mentors, regularly go above and beyond for their customers and have a strong community presence.
Get to know Jorvardo, Thomas, Alan, Jason and Tommy, five team members proudly representing RDO and providing world-class experiences.
Jovardo Nunez – Field Service Technician, Yuma, Ariz. – Division Winner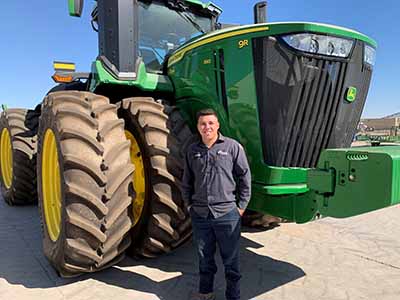 RDO Field Service Technician Jovardo Nunez is a Yuma, Arizona, community pillar. From the RDO shop to local organizations, Nunez plays an active role in helping others. He routinely spends time at the local food bank, preparing food boxes for distribution to families throughout Yuma and the surrounding counties. Nunez also assists with the Arizona Special Olympics Organization and is committed to any opportunity that betters the area where he lives and works.
"(Jovardo) adds value to our company and brand," said Store Manager Jaimey Polk. "He is committed to the success of our customers and is routinely directly called to provide guidance. Yuma customers have grown to trust his judgment and appreciate his assistance."
Nunez has honed his skills over his five years with RDO, racking up 587 training credits through John Deere University and achieving certifications covering agriculture, construction and consumer equipment. This commitment to education illustrates Nunez's passion for his work, which carries over to his relationship with his fellow team members. He is a trusted resource, especially when it comes to safety. Nunez stays vigilant in the shop and prompts himself and the team to continuously take the necessary steps to prevent a mishap.
As Polk puts it, "(Jovardo) is selfless and takes every opportunity to help others when he can."
Thomas Goettle – Service Technician, Bismark, N.D. – Territory Winner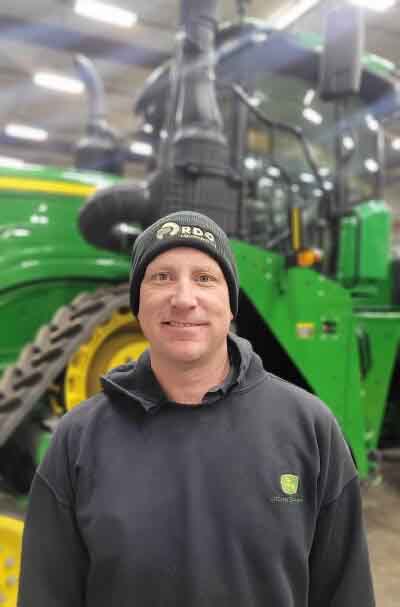 Over the last 13 years, Thomas Goettle has been a fantastic team member at the RDO Bismarck store.
"(Thomas) is always willing to help when needed. He is a leader in the shop and does what it takes to get a customer back up and running, said Mike Leintz, Regional Aftermarket Manager.
Goettle's favorite part of being a Service Technician is the feeling he gets when a machine is fixed, knowing that only a select few people will ever get to experience that achievement. It doesn't matter to him if it's the first machine or the thousandth. He remains fascinated by the shifting technological landscape of equipment production.
This curiosity makes Goettle a customer favorite. They know he remains committed to a job well done and will set aside time to explain the repair. Goettle's reputation also makes him a fantastic mentor for less experienced technicians in the shop. These new technicians are known to watch and listen to Goettle's customer interactions to build their skills.
Leintz sums up Goettle's work ethic: "He is always looking for ways to improve a process, repair or shop efficiency."
Tommy Hoheisel – Service Technician, Sauk Rapids, Minn. – Territory Champion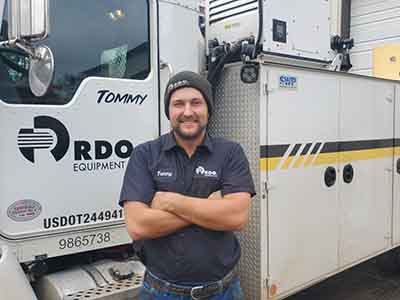 For the last eight years as a Service Technician, Tommy Hoheisel has maintained a strong reputation for his top-notch customer service. Hoheisel cares deeply about each fix and the customer's needs as he builds trust with each person he interacts with. This hasn't gone unnoticed by the local community, as RDO Sauk Rapids customers are known to ask for Hoheisel by name and are willing to wait for his exceptional service.
Hoheisel's accolades don't stop there. He is also often the first to lend a hand to help those in the community. Whether disaster cleanup or infrastructure improvements, Hoheisel is committed to assisting people in their time of need and using his skills for the greater good.
From community involvement to working on-site for a customer, Hoheisel carries a positive attitude wherever he goes. This includes mentoring his fellow peers as he works side by side with new team members. Hoheisel understands the importance of knowledge transfer and always encourages new technicians to shadow his work.
In his role at RDO, Hoheisel leads by example and is a great model for building customers for life.
"(Tommy) is an exceptional team player who can always be relied upon by both his Sauk Rapids team and customers," said Field Service Operations Manager Ian Schwartz. "His outstanding qualities, work ethic and attitude set him apart from others and make him a valuable member of the team."
Jason Ihly – Service Technician, Fort Worth, Texas – Territory Champion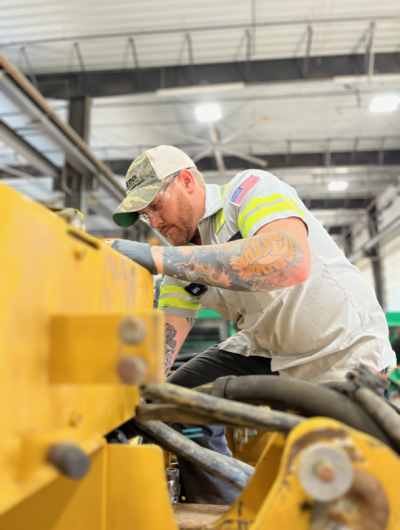 If there is one word to describe Service Technician Jason Ihly, it's determined.
Ihly has been at RDO Fort Worth for eight years and continuously scores the highest performance numbers while maintaining a clean safety record. He is determined to complete the job efficiently and correctly to ensure the customer can return to work with minimal downtime.
The shop's performance bar is largely set by Ihly's determination to succeed. He treats every machine as if it were his own and holds himself to a standard of zero rework. Service Operations Manager Josh Gillen sums up Ihly's work ethic: "(Jason) is driven to succeed. He truly cares about his performance and the quality of work that he turns out. He gets repairs done correctly the first time."
Is Ihly a great role model in the workplace and within the community. He is a Marine Corps veteran who has served multiple overseas deployment tours. Gillen said, "We at RDO honor him for his service to our country and the impact that has on the quality of life we have in our community."
RDO Fort Worth is proud to have someone with Ihly's determination on their team.
Alan Nichols – Field Service Technician, Hermiston, Ore. – Territory Champion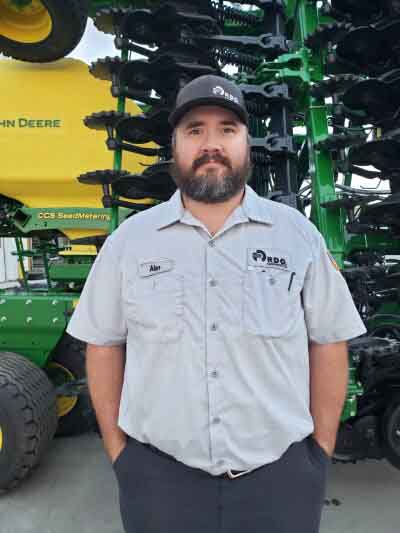 Although Alan Nichols has been a Field Service Technician for 17 years, he is an active lifelong learner. With over 1,000 hours of lifetime John Deere University credits, Nichols is committed to staying current on the latest technology. Due to this education, he can master a wide range of jobs —all the way from an 18-liter Cummins engine to precision ag technology.
Nichols is also passionate about educating his fellow team members, especially regarding safety. If he sees an unsafe situation, Nichols is often the first to step in and help correct it. He is always willing to lend a hand with his selfless attitude and determination to keep the customer running.
"(Alan) goes above and beyond each and every day. He takes the time to do his research before going out into the field and usually only has to make one trip to the machine because he forms a plan of action and brings the correct parts with him," said Regional Aftermarket Manager Darrell Olson. "(Alan) leads by example and many of the younger technicians look up to him for guidance."
Nichols also uses his skills to benefit the local community. He will take charge and lead the repairs when a fix needs to happen at his church. Nichols also volunteers at summer camps and with the local Little League team.